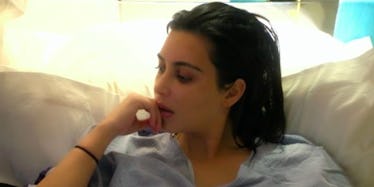 Here's How Kim Kardashian's Robbery Reportedly Played A Part In Surrogate Decision
E! Entertainment
It has been a long day for Kim Kardashian. Today, Kim not only launched her KKW Beauty line, but news also broke that she and husband Kanye West will be using a surrogate to have their third child, People reports.
Elite Daily reached out to Kim and Kanye's teams for confirmation, but did not hear back by the time of publication.
According to E! News, this decision was fueled in part by Kim's life-altering Paris robbery back in October of 2016.
A source told E!,
Kim has been very focused on having another child ever since the Paris robbery. The robbery only made her more determined to expand her family, and Kanye is truly a partner in the process.
Elite Daily reached out to both Kim and Kanye's teams for comment on the source's report, but did not hear back by the time of publication.
The family has become notably even more close-knit since the tragic events in Paris, and it has been clear that they are relying heavily on the love and support they have for one another. It makes sense that something so extreme would shine light on the things that really matter, like family.
Kim also spoke candidly about how it all has affected her desire to grow her family in a recent episode of Keeping Up With The Kardashians.
She said,
Kanye and I have always talked about having more kids, but after what I went through in Paris, the urgency is even greater. I'd just love nothing more than to expand my family and just know that I have this world at home that's safe. And if for some reason I left this earth sooner than I really wanted to, then my kids would have a support system at home so that I know that they would be OK if I wasn't here.
Additionally, she chatted with sisters Khloé and Kourtney about the potential of surrogacy, saying,
I'm definitely leaning more towards I want to try. After talking to Kanye, I think that I always knew that surrogacy was an option but I didn't think it was that realistic of an option. Now I feel like that's my reality.
We're sending the whole Kardashian West family support and love during this sensitive time.