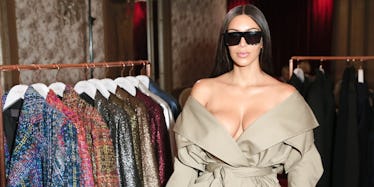 Kim K Says She Can Handle Social Media's 'Lack Of Privacy' In '60 Minutes' Clip
REX/Shutterstock
No one used social media more often than Kim Kardashian.
The 36-year-old reality star was the queen of Instagram, Snapchat and Twitter.
And yet, we haven't seen Kim's face since the terrifying robbery that took place in her Paris hotel room.
Ironically enough, Kim Kardashian sat down with "60 Minutes" for an interview prior to the robbery to discuss the pros and cons of posting the details of your life online.
The segment aired on Sunday night, and fans got to see Kim speak out about the "lack of privacy" she experiences. She explained to Bill Whitaker,
There are pitfalls — lack of privacy, loss of privacy — and that might not be for everyone.
She clarified to the CBS News reporter she "can handle it" despite the difficulties that come with it.
The "Keeping Up with the Kardashians" star also attributed her career to social media. She discussed the pros and cons of constantly working on social platforms and said in the end, it's helped her more than it's hurt her:
I do believe that the pros in my situation and my lifestyle have been more beneficial than the negative things.
Since the robbery, it seems Kim Kardashian's stance on social media might have changed.
We haven't seen a tweet or selfie in a couple of weeks, and Kim also didn't post anything on her birthday.
Some people even believe her Snapchats from the night of the robbery could have aided robbers in their planning.
That Sunday, the star Snapchatted the inside of the apartment where she was staying and added selfies from when she was home alone in a robe.
She even showed off some of the jewelry she was wearing before it was stolen from her.
Madison Malone Kircher explained the theory perfectly for New York magazine, saying,
What this means is anybody with a cell phone could map out a pretty good picture of where Kardashian West is and what she's up to, at all times.
It's unclear how exactly the men found Kim Kardashian, but it does seem like social media may have played a part.
Of course, that does not mean Kim is to blame in this situation. It just shows the dangers that can come from posting your life online.
The reality star has not yet returned to Twitter, Snapchat or Instagram. Perhaps, she's taking this time to reconsider if she ever will again.
Citations: Kim Kardashian On Social Media (E! News)