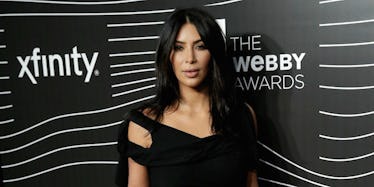 Kim K Is Continuing Her Comeback With An 'Ocean's Eight' Movie Role
Reuters
It's no secret that Kim Kardashian has been keeping a low profile since she was robbed at gunpoint in Paris.
However, it seems like Kim is slowly making her way back into the public eye.
Last week, Kim Kardashian made her first public appearance since the terrifying attack in October. She attended her makeup artist Mario Dedivanovic's Master Class at the Atlantis hotel in Dubai.
Now, Kim Kardashian is making a comeback with an 'Ocean's Eight' movie role.
Looks like Kim Kardashian is making a cameo in 'Ocean's Eight' https://t.co/LiI1Z3KZyF — The Cut (@TheCut) January 17, 2017
That's right. Kim Kardashian and her little sisters Kylie and Kendall Jenner were just spotted near the "Ocean's Eight" set in New York City on Monday evening.
Apparently, the famous sisters will be making a cameo appearance in an "Ocean's Eight" scene that takes place at the Met Gala.
Kim Kardashian Films 'Ocean's Eight' Cameo with Kendall & Kylie Jenner! https://t.co/AEnCUwrJB4 via @JustJared — Kacey Kells (@KaceyKells) January 17, 2017
Both Kim and Kendall were photographed wearing beautiful, lacy dresses during the filming session, with Kendall wearing an elegant, short-sleeved ensemble and Kim strutting her stuff in a floor-length gown paired with a white fur coat.
Kylie Jenner, on the other hand, kept it casual with a camouflage jacket and posted Snapchats from the set throughout the evening.
The upcoming "Ocean's Eight" film, which is an all-female heist movie inspired by "Ocean's Eleven," is set to feature a variety of famous faces, including Anne Hathaway, Sandra Bullock, Cate Blanchett, Rihanna, Sarah Paulson, Mindy Kaling and Katie Holmes.
Back in November, Matt Damon told ET Online he would also be playing a role in the film, making an appearance as Linus Caldwell, his infamous character from "Ocean's Eleven."
During the interview with ET Online, he said,
I haven't read it yet, but the cast is phenomenal and I'm excited to see what those women do with it. It's going to be fun.
There's no word yet on what exactly Kim Kardashian's cameo will entail, but I think it's safe to say this is just the beginning of her monumental comeback.
Citations: Kim Kardashian and Kendall Jenner Film 'Ocean's Eight' Cameos in NYC -- See the Pic! (ET Online)