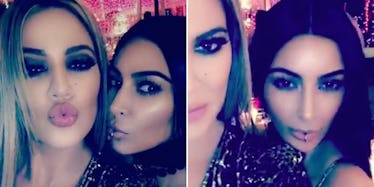 Kim Kardashian Is Back And She's Ringing In The New Year With A Lip Ring
Snapchat
Nothing screams "New year, new me!" louder than face jewelry. It is the perfect skin accessory to let the world know you're ready to grab the upcoming year by the surgical steel balls.
Of course, Kim Kardashian knows this.
Last night, Kim debuted her new lip ring in a series of Snapchats posted by Khloé Kardashian at Kris Jenner's annual Kris-tmas Eve party (I don't if she calls it that, but if she doesn't, she should.)
And while the lip ring alone is certainly the headline-worthy news we were all craving this Christmas, it's an even bigger deal Kim Kardashian made a Snapchat appearance.
The 36-year-old reality star has been on a social media hiatus since she was robbed at gunpoint in Paris in October. She's made a strong effort to stay out of the public eye and has only been seen a few times stepping out of her home.
Last night, however, was an exception.
Kris Jenner's star-studded annual holiday party is a Gatsby-level extravaganza, and Kim's presumably clip-on lip ring was not the only star of the night.
Also in attendance were David Foster, El Debarge, John Legend and Babyface, who serenaded the crowd with their angel voices.
Caitlyn Jenner was also there, looking flawlessly spirited in a red gown.
And I'm fairly certain any Kardashian/Jenner event self-implodes unless Kylie Jenner posts at least two videos of her bouncing on top of Tyga while making everyone in the room uncomfortable.
As far as we know, Rob Kardashian, Blac Chyna, Dream Kardashian and Kanye West did not attend last night's Christmas Eve party.
Blac Chyna and Rob Kardashian's relationship has been on the reality-TV-show-contractually-obligated rocks since Rob Snapchatted his empty house and claimed Chyna left him and took baby Dream with her. However, Rob did post a Snapchat of Chy and Dream two days ago, so no one really knows which scripted narrative to believe!
Additionally, Kanye West has been going through some rough times. The rapper was hospitalized due to "extreme exhaustion" a month ago and has been keeping a low profile since.
However, disregarding the absence of these family members, the biggest takeaway from Kris' party is Kimmy wore a lip ring, and that's something to celebrate.
Merry Khristmas, world!