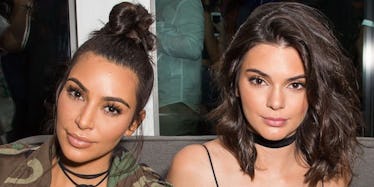 Kim K And Kendall Jenner Eat McDonald's During NYFW Because Life Isn't Fair
REX/Shutterstock
HOLD ON A GD SECOND.
It's New York Fashion Week and the models are scarfing McDonald's? No way. No freaking way are Bella Hadid and Kendall Jenner scarfing McDon— well son of a bitch, I stand corrected.
How are these two eating McDonald's with Kim Kardashian And Kanye West during New York Fashion Week? They just walked for Anna Sui, for Christ's sake, and now they're scarfing pounds of — well son of a dang bitch, that's one burger for four people.
That's a burger, some nugs and an order of fries. That's it.
OK. Pack it up, folks. I overreacted a little, admittedly. That's one meal split gingerly among four tiny people.
It's a damn shame these four didn't get enough food for dinner to be fun, especially considering Kanye West was fresh off his Yeezy Season 5 show.
The past year has been a rough one for the West family, culminating in the cancellation of Kanye's Saint Pablo tour and his subsequent hospitalization.
The rapper has managed his return to work well, according to a source who told ET ahead of Ye's show,
Kanye is doing really good… He's in a great place. He has really calmed down and is listening to what the professionals are telling him… He's not taking on too many projects and has only been concentrating on tomorrow's show… He's focusing on his family and the line. They're all doing well.
When Kim isn't supporting Kanye and Kendall's fashion endeavors, she's secretly stowing away every incredible creation that's ever touched her body or a red carpet or both at the same time.
While sorting through her closet on Snapchat, Kim told fans,
Just all the things that I've worn... It's all labeled. I wore this in Paris once... Vegas on my birthday... Art Basel... Jay Leno... Do you remember this Grammy dress I wore? This Elton John Oscar party dress? Golden Globes party... the best is the stuff I've never worn that was like, crazy made. All this Balmain stuff... The fun part is I kept everything — all for memories. Even when Kanye thought he cleaned out my closet, I kept it all secretly for my daughter one day.
Aw, Kim! North is years away from being able to wear all that and here I am, my butt full of McDonald's and my waist tiny from youth and the manic stress of my 20s, waiting for Balmain hand-me-downs from any kind stranger.
Think about it. I'll be here because I can't afford to go anywhere else. Ever.
Citations: Kim Kardashian and Kanye West Celebrate With McDonalds After Yeezy Season 5 Fashion Show (ET)