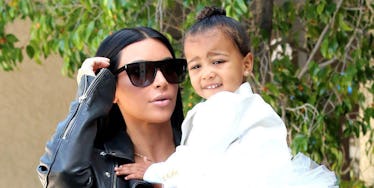 Kim Kardashian Tours Her Collection Of Outfits She's 'Secretly' Kept For North
REX/Shutterstock
Based on Kim Kardashian's latest Snapchat post, it looks like North West will be inheriting quite a few hand-me-downs from her mom.
While organizing her closet, the 36-year-old star recently took to Snapchat to show off her collection of outfits she's worn to various events over the years.
The extensive fashion collection includes an impressive amount of gowns and shoes Kim's worn to red carpet events and prestigious awards shows.
While sorting through her collection, Kim nonchalantly said,
Just all the things that I've worn.
The mother-of-two then went on to sort through a few of the items, saying,
Remember all this stuff? Prince concert… look at this gown from the cover of Vogue from Alber Lanvin… My Met dress… I wore this to the Balmain show…
She didn't stop there, either. Kim then listed birthday outfits she wore and her Academy Awards party dress.
It's all labeled. I wore this in Paris once… Vegas on my birthday… Art Basel…. Jay Leno… Do you remember this Grammy dress I wore? This Elton John Oscar party dress? Golden Globes party…
Let's be real. This is Kim Kardashian we're talking about, people.
You KNOW she had a separate collection of outfits she's never even worn!
I don't know if you can see, but the best is the stuff I've never worn that was like, crazy made. All this Balmain stuff…
It turns out all of the high fashion won't be going to waste, though. Kim says she's "secretly" kept all of her clothing after Kanye thought he cleaned out her closet so she could one day pass it down to North West.
Sneaky, sneaky...
The fun part is I kept everything — all for memories. Even when Kanye thought he cleaned out my closet, I kept it all secretly for my daughter one day.
Now, that's good parenting!
Behold Kim Kardashian's extensive collection of outfits she's worn over the years to various events.
She even posted a separate Snapchat post dedicated to her plethora of shoes captioned "memories."
Who knows if North West will even want all of this gear when she's finally able to fit into it...
After all, we are talking about a famous toddler who's already helping her parents design a line of clothing for children.
It's safe to say her closet is likely filling up pretty quickly at just age 3.
Citations: Kim Kardashian West Tours Her Extensive Fashion Archive: 'I Kept It All Secretly for My Daughter' (People)