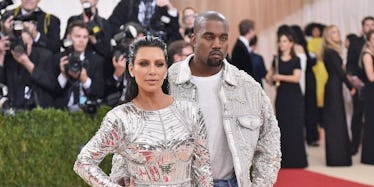 Kim Kardashian Posts Tribute To 'Best Husband' Kanye West On 3-Year Anniversary
Getty Images
Kim Kardashian and Kanye West have seen some shit, to put it nicely.
In a three-year marriage, the couple has survived the wedding of the century, two difficult pregnancies, their stepfather undergoing a very public transition, a crazy celebrity feud, the rise of Yeezy fashion, the infamous Paris Robbery, and a mental health breakdown -- oh, and then there was that whole breaking the internet thing.
Wednesday marks Kim and Kanye's three year anniversary and, despite it all, the two seem to be more in love than ever.
And you guys -- can I be the most real with you? I really feel like these two are going to make it.
Today on Kim's website, she posted some behind-the-scenes photos for her wedding dress fitting with Ricardo Tisci and some moving words in tribute to Kanye.
Kim wrote,
I can't believe it's been 3 years! For our wedding anniversary, I wanted to share some BTS pics of my dress fitting with Riccardo Tisci.
The mother of two has been slowly making her way back into the public eye after her tragic robbery, and has been vocal about how she is recommitting to the things that matter most in her life, like family.
Happy three-year anniversary babe! Thank you for being the best husband and father. I love you so much.
Fans of course are celebrating Ye and K everywhere, and Kim even re-shared a video montage posted on twitter, highlighting some key moments from their relationship.
In the video, Kanye is shown saying, "I wanted to marry that girl from the first time I saw her," in addition to confessing he wrote her a poem that ultimately ended up being the lyrics to his song, Lost In The World.
I know, I know.
Happy anniversary, Kimye! Love to love you!