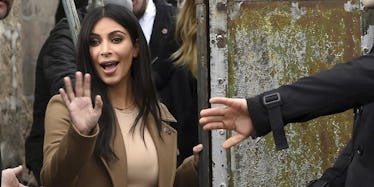 Never Forget The Time Kim Kardashian Dressed Up As Kim Kardashian For Halloween
REX/Shutterstock
Kim Kardashian is the queen of a lot of things: taking selfies, using social media, birthing beautiful children, being hot as hell.
Besides these obvious talents, the 36-year-0ld reality star is also extremely gifted when it comes to picking out Halloween costumes.
Exactly one year ago, Kim Kardashian stunned the world with her incredibly creative and original outfit.
While her sisters were dressing up like Eskimos and superheroes, Kim was planning the greatest costume of all time: herself.
Yup, Kim Kardashian dressed up as Kim Kardashian for Halloween last year, and I'm not joking.
She won Halloween with one single Instagram photo of herself holding her pregnant belly with the caption,
I think I nailed the Kim K costume!
KIM, YOU ARE MY HERO.
God, I love her so much.
Literally this woman is the only person who could be herself for Halloween and get away with it. If I dressed up as myself for Halloween, my friends would punch me in the face.
Kim K has dressed up as other things for Halloween before, like when she was a sexy skeleton.
Or a sexy pirate.
Or a sexy cat.
Or a sexy Queen of Hearts.
But in my opinion, nothing beats her Kim K costume.
Halloween is next week, but it's unclear if Kim Kardashian will be celebrating the holiday this year.
Since the star was held up at gunpoint in her Paris hotel room, she has kept a low profile. She's canceled all public appearances and has avoided social media at all costs.
She also didn't have a big party for her birthday on Friday or post about it on Twitter.
As of now, it looks like the star might keep things low-key for Halloween as well. I guess the only people dressing up as Kim K this year will be her fans.