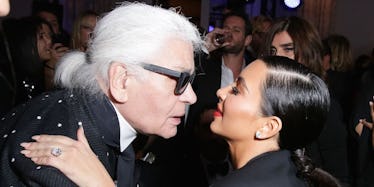 Kim Kardashian Cried Because Karl Lagerfeld Didn't Give Her A Chanel Purse
REX/Shutterstock
SHE'S BACK ON THE APP!!!!!!!!!!!!!!!!!!!!!!!!!!!!!!!!!
Well, sort of.
Kimmy Kimmy Kimmy, can't you see? How long we waited for you baby And we just love your appy ways I guess that's why they broke and you're so paid ($2.99/mo)
Kim Kardashian West has been off social media and, for the most part, out of the spotlight since October, when she was infamously robbed at gunpoint in Paris by thieves who bound the mother of two in her hotel room.
Her Twitter and Instagram have sat untouched since then, and her app has been updated via takeovers by loved ones.
On Monday, she appeared in the December 12 video for Love magazine's 2016 Advent calendar, and on Wednesday, the team behind her video game Kim Kardashian: Hollywood released a behind-the-scenes video featuring the reality star (though it was filmed prior to her Paris ordeal).
It's not much compared to the old Kim K, but we'll take what we can get.
Which is why when the clouds parted and from the heavens fell a post on Kim's app composed by the one and only Keeks herself, we embraced it with open arms, even if it was just a throwback.
In the post, Kimmy tells the tale of her first shoot with Karl Lagerfeld and how it resulted in her standing in the bathroom of a Chanel shoot, seven months pregnant, crying her eyes out.
According to Kim/modern mythology,
I was told that Karl supposedly gives you a Chanel purse the first time he works with you. The whole time, I was anxiously waiting to see if this legend was true.
Enter Kris Jenner. When her momager arrived on the scene, Kim recalled her being "SO embarrassing."
She explained,
My mom showed up to support me and she was all decked out in head-to-toe Chanel — I'm talking gloves, sunglasses, earrings, boots and a jacket. I thought she was SO embarrassing, LOL, but Karl loved it so much that he pulled out a Chanel purse — not just any purse but their beautiful crystal Lego clutch.
It was really happening, the moment Kim had heard about. The moment she'd get her Chanel purse from Karl Lagerfeld.
The 36-year-old said,
I got so excited, thinking Karl was going to give me a surprise bag, but instead he goes straight to the Chanel queen herself: Kris Jenner. I was very hormonal and emotional from my pregnancy, so I went to the bathroom to cry and then called my cousin Cici to calm me down. I was upset that my mom stole my moment!
Kim said she had planned to pass that clutch down to North "as a token of [her] only pregnancy shoot."
As she stood in the women's bathroom, sobbing on the phone, her cousin Cici reminded her shooting with Karl Lagerfeld is still an experience she "should be grateful for."
Kim concluded,
She was right. Karl didn't even know I was upset; I totally played it off, like everything was fine. For this Harper's Bazaar shoot, I finally told Karl and Carine [Roitfeld] this story, and they thought it was hilarious.
This is classic diamond-in-the-ocean Kim K.
We really, really miss you, ma.