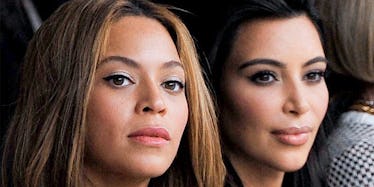 This Picture Confirms Kim Kardashian Wants To Be Beyoncé So Bad It Hurts
REX/Shutterstock
Following the VMAs in New York City, celebrities like Kim Kardashian, Alicia Keys, Swizz Beatz and Kanye West partied the night away at a trendy Manhattan restaurant.
In addition to Kimye, Alicia Keys and Swizz Beatz, other celebrity couples in attendance included Beyoncé and Jay Z, as well as Cassie and Diddy.
The celebrity couples regrouped after the star-studded event to celebrate at Pasquale Jones, an upscale Italian restaurant in SoHo.
If there's anything that can be noticed from the selfies they all took during dinner BESIDES the fact that they're obviously everyone's ultimate #SquadGoals, it's that Kim Kardashian's thirst to be Beyoncé is showing more than ever.
No, seriously, she looks beyond starstruck. It's kind of sad.
I mean, I understand why Kim K. looks so blown away -- this is Queen Bey we're talking about... But come on, control yourself, Kim!
Here's the photo. Kim Kardashian couldn't help but stare longingly at the flawlessness of Beyoncé.
While EVERYONE is enjoying themselves (yes, even Kanye), Kim can't help but admire Bey.
The look says it all.
Say what you want about Kim, but it's NOT hard to see why.
I'll tell you exactly what Kim was thinking...
It's not hard to see why Kim Kardashian would get lost in the presence of Beyoncé. Aside from the fact that she's, well, Beyoncé, past reports have indicated that Kim will do anything to literally be anywhere around her.
Back when Kim and Kanye first started dating, an inside source spoke to the New York Daily News, saying,
Kim wants to travel everywhere with Kanye, but she's also trying to do whatever she can to get close to Beyoncé. So, if Bey and Jay are going, she's going.
It appears that this statement, which most people would probably classify as bogus, might actually be legit -- and this photo proves it.
Kim, don't worry, I'd probably have the same look on my face after that breathtaking Lemonade performance at the VMAs. You're not alone...
Just try not to be so obvious next time.
Citations: Beyonce, Jay Z, Kimye Partied Together Post-VMAs (and Alicia Keys Was There Too!) (US Magazine)