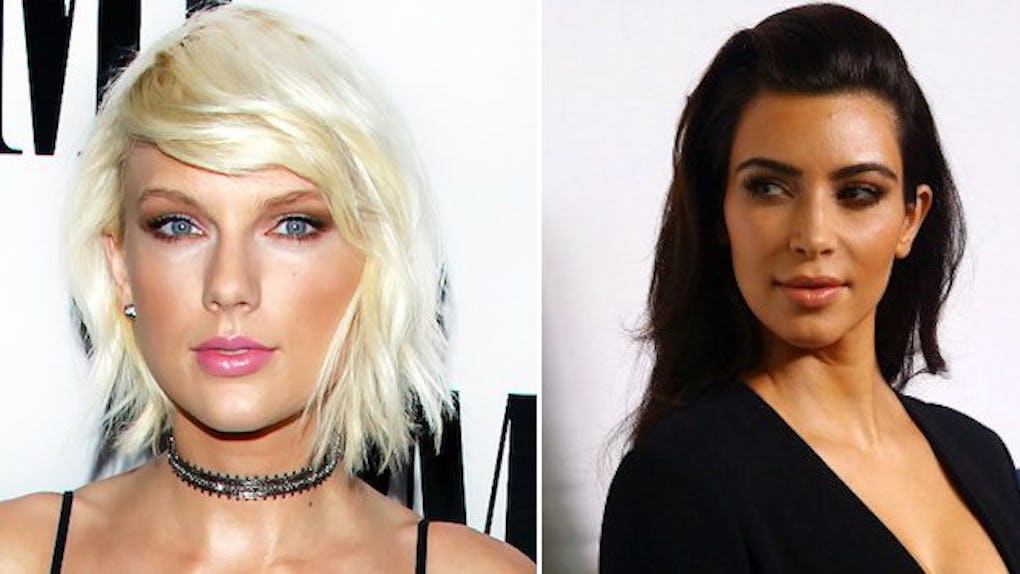 Mark/Davis /Astrid Stawiarz/Getty Images
Kim K's Reaction To Taylor Swift's New Single Was Nonexistent On Twitter
The Kim Kardashian and Taylor Swift drama continues to unfold, and it's kind of the greatest thing to ever happen. It's sort of like teenage high school gossip, but with really ridiculously good looking adults. The vote is in, and it's unanimously the best feud in history. So, can we talk about Kim K's reaction to Taylor Swift's new single? Is this a reaction? How on earth could this be about Taylor Swift? It must mean something!
Taylor Swift has been posting creepy videos of snakes on Twitter and Instagram all week as part of a campaign for her new album, Reputation. The album, which drops on Nov. 10 is already causing quite a stir. The first single, "Look What You Made Me Do" sounds similar to the '90s pop song, "I'm Too Sexy for My Shirt" and everyone thinks it's about Kanye and Kim K. It's a lot of inaccurate guessing, but fans know what's going on.
The world was waiting with baited breath for Kim K to tweet about Swift's new song, but when the tweet finally came, it wasn't what we were expecting. Is that a photo of Saint West? This literally has nothing to do with Swifty! Give us more. We want more!
So, why did fans assume Kim K would tweet about Swift's new album, Reputation? Well, for starters, Swift's new album cover is a close copy of the cover of Kanye West's album, Life of Pablo. Secondly, the lyrics in Swift's new song "Look What You Made Me Do" are pointed directly at all of her enemies, and we all know Kanye and Kim herself are probably enemies. Just look at these vicious lyrics:
I don't like your little games Don't like your tilted stage The role you made me play Of the fool, no, I don't like you The world moves on, another day, another drama, drama But not for me, not for me, all I think about is karma And then the world moves on, but one thing's for sure Maybe I got mine, but you'll all get yours
Damn. Note to self: Never mess with Taylor Swift. She won't get over it.