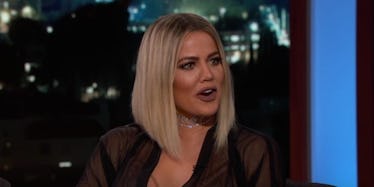 Khloé K Tells Hilarious Story About Visiting BF Tristan Thompson In Cleveland
YouTube
Khloé Kardashian is leaving LA for Cleveland, and you'll never talk her out of it.
After nearly a decade in the spotlight, Khloé recently reveled in the anonymity afforded to her by the good people of an Ohio Target parking lot.
During a visit to "Jimmy Kimmel Live!" on Thursday, the 30-year-old told the host,
It's so funny, the first week I was [in Cleveland] – me and my friends – we went to the gym and we went to Target and we were in the car and they were like, 'Don't you like it? There's no paparazzi here!' … And I was like, 'I love it! No one even notices me!' Then I get out of the car and someone was like, 'Oh my God, you should get paid to be a Khloé Kardashian lookalike, you look just like her!' And I was like, 'You're so right, I should!' But why would someone think I'm at a Target in Cleveland? No one would think that!
Koko's been spending more time in C-town thanks to new boyfriend and Cavaliers player Tristan Thompson.
If anything can lure Khloé back to Cali, it's the impending birth of her niece.
She told the late night host her future sister-in-law, Blac Chyna, is depending on Khlo to help out big time with the new baby.
She said,
Chyna keeps going, 'Are you ready? We're having a baby!'… But we meaning, her and I. And I'm like, 'Ah yes,' laughing it off, and now I'm beginning to think, 'No, she's really serious.' Like, it's really her and I.
Khloé is hardly looking to step on her brother Rob's toes. Sure, she'd make an amazing co-parent, but it's Rob's turn to step up, and Khloé has faith he'll do a killer job.
She likened him to her late father, Robert Kardashian Sr., saying,
Rob has so many traits like my dad [the late Robert Kardashian], so I think he's gonna be great with a baby. I'm sure he's nervous, I think any new dad should be.
Rob will be a great dad, Khlo, you're right. That still doesn't mean you can up and leave for the Cleve.
Citations: Khloe Kardashian Thinks Brother Rob Will Be 'Great' With His Daughter, Talks Low-Key Life in Cleveland With New Boyfriend (Entertainment Tonight)