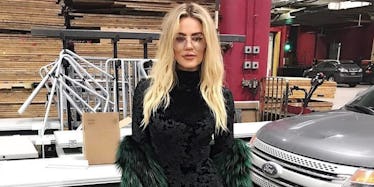 Khloé Kardashian Celebrated Dropping 'Odom' From Her Name With Hilarious Cake
It's OK if you were confused AF about why Khloé Kardashian was posting a birthday cake on her Snapchat despite the fact her birthday isn't until June.
I was confused, too. That was until I found out Khloé wasn't celebrating her birthday four months in advance.
Although, I wouldn't have been surprised if she were!
It turns out she was actually having a name change party. The newly divorced Kardashian celebrated dropping the Odom surname from her identity by having a massive cake with her California state identification card on it.
According to TMZ, Khloé Kardashian officially dropped Lamar Odom's last name from her personal documents on Thursday. The documents include her passport and her state ID.
To celebrate her name change, Khloé shared a couple of Snapchat posts of her celebratory cake, which was given to her by her assistants.
Who knew name change parties were even a thing?!
Paperwork finalizing Khloé Kardashian and Lamar Odom's divorce was effective as of December 17, 2016. They got married just a month after meeting each other.
Since finalizing the divorce, Odom checked himself into a rehab center in San Diego where he spent 35 days working to battle against his drug addiction.
The 37-year-old former NBA star was eventually released from the rehab program in early January. It didn't take too long before Odom ran into TMZ's camera-wielding paparazzos who drilled him with questions.
It was that day the NBA champ was asked if Khloé or any other members of the Kardashian family reached out to him during his 35-day rehab stint. He said no. He did say he was going to make an effort to reach out to them himself.
A few weeks later, Lamar Odom appeared on an episode of "The Doctors" with Dr. Travis Stork in which he admitted his goal was to get his "wife back."
However, due to Khloé's recent name change party and the fact she's now dating another NBA player named Tristan Thompson, that's probably not going to happen.
Citations: Khoe Kardashian: Bye-Bye, Odom... I'm Just A Kardashian Again (TMZ)