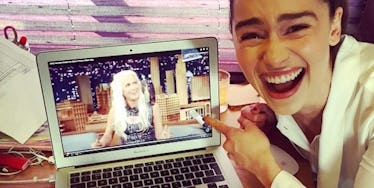 The Real Khaleesi Laughed Hysterically At Kristen Wiig's Parody Of Her
The other night, Kristen Wiig pretended to be Khaleesi from "Game of Thrones" while on "The Tonight Show with Jimmy Fallon."
The performance was wacky and weird. But most of all, it was hilarious.
It seems like Emilia Clarke, the actress who plays Khaleesi, would tend to agree.
Clarke Instagrammed a photo of herself cracking up while watching Wiig portray the Targaryen girl.
It's good to know the Mother of Dragons has a sense of humor in real life, because in the show, Daenerys takes everything way too seriously.
Check out the photo below.
Citations: See Emilia Clarke Cry with Laughter at Kristen Wiigs Khaleesi Impression (Time)