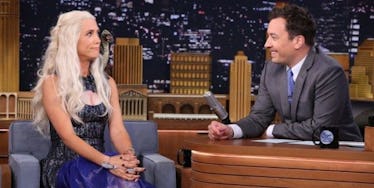 Kristen Wiig Spends Entire Jimmy Fallon Interview As Khaleesi From 'GoT' (Video)
Kristen Wiig went on "The Tonight Show with Jimmy Fallon" to promote her new film, "Welcome to Me," and for some unknown reason, she was dressed as Daenerys Targaryen from "Game of Thrones."
Wiig attempted to speak in an English accent and act as if she actually was Khaleesi throughout the interview.
However, that proved to be easier said than done as she and Fallon kept on cracking up and breaking character.
It's a pretty ridiculous and weird interview so I suggest you check it out above. Wiig even has a little dragon on her shoulder in the clip, so you'd really be doing yourself a disservice by not giving it a look.