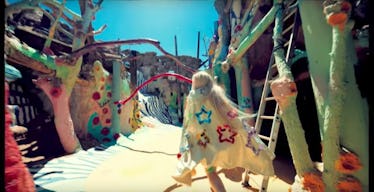 6 Breathtaking Moments From Kesha's "Praying" Music Video
YouTube
Kesha finally released her first single in almost four years, and it's an emotional ride. "Praying" has amazing lyrics and delves deep into Kesha's past.
The music video does the song justice, with tons of imagery and breathtaking moments. Here are six standout shots that will make you as strong as Kesha.
1. Hope In Darkness
The music video starts in black and white while Kesha speaks some very powerful words. Throughout the song, she starts overcoming the darkness, and then a bit of light appears. In a piece Kesha wrote for Lenny Letter, she explained,
It's from our darkest moments that we gain the most strength ... I was never at peace, night or day. But I dragged myself out of bed and took my emotions to the studio and made art out of them.
2. Smashing The Norm
There are a few scenes in the music video with these televisions painted with red wording. They have phrases like "You're Too Thin" and "Do Not Engage" written over them. If those don't send a strong enough message, Kesha begins to destroy them. The colors and imagery are truly breathtaking.
3. Painful Yesterdays
While the music video is super colorful and uplifting, these dark shots are pretty awesome. Painful, black tears streaming down Kesha's face remind us that through pain comes strength.
4. A Sign Of The Future
This video is so empowering. I love the giant signs of hope. I mean, that's a whale tail appearing to her. A message doesn't get much bigger than that.
5. Stronger Every Day
Kesha leaves her black and white floating raft for a colorful tomorrow. Not only is she walking on water, but there's a sunset. Gorg.
6. A Brighter Tomorrow
"Praying" is full of empowering imagery for hope and a brighter tomorrow. The music video ends with this amazing shot of rainbows and magic (oh, and there's that whale again).
Kesha came back to us in full force. Also, have I never realized she has some major pipes? Girl can sing! I highly recommend this song for a breakup or to just get through a tough week. Thanks, Kesha!