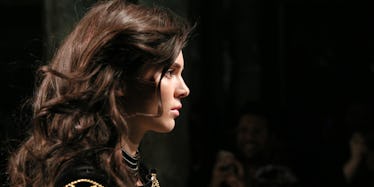 Kendall Jenner's Alleged Stalker Was Only Charged With Trespassing
REX/Shutterstock
Depending how you look at it, the LA legal system has either helped Kendall Jenner a lot or kind of boinked her in the long run.
It's like the worst version of that whole "glass half full/half empty" thing.
As is the standard with gorgeous famous people, Kendall Jenner has had issues with being stalked in the past. Specifically, a 25-year-old named Shavaughn McKenzie was accused of stalking her at her home.
According to TMZ, McKenzie had his day in court recently over the stalking allegations made by the elder-Jenner, and things went kind of well for him.
Although he was convicted of trespassing, he did get let off on the actual stalking charge, which was the harsher of the two brought against him.
The allegations made against McKenzie seem absurdly horrifying, with Kendall claiming she had "never been so scared" in her life when the two had their encounter on August 14.
Reportedly, Kendall came home one night and found McKenzie sitting in her driveway with his head between his knees. She proceeded to drive around him and close the gate behind her, thinking he hadn't followed.
At that point, McKenzie popped up right next to her driver side mirror. Kendall cracked her window and yelled at him to leave. In response, he reportedly started freaking out, banging on her windows and terrifying the 20-year-old model.
He did, however, tell her he didn't have a gun while pounding on her car window, which was kind of nice of him (I guess?).
Kendall says she was able to get away, drive to the end of the block and call a friend for help after this all happened.
The event was so jarring for Kenny, she was reportedly forced to hire a round-the-clock in-home security team to help beef up the existing protection at her home.
Soooooooo, way to screw this up, LA justice team.
Citations: KENDALL JENNER ALLEGED STALKER NOT GUILTY OF STALKING BUT (TMZ)