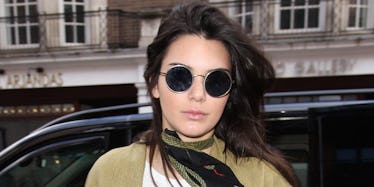 Kendall Jenner Looks Like She's Missing A Leg In Golden Globes After Party Pic
REX/Shutterstock
HOT TAKE: Kendall Jenner has two legs.
Before you even consider sending along that Golden Globes photo posted on Instagram by InStyle that makes it look like Kenny sported half as many legs as she usually does…
...let me blow the lid right off this theory with another photo from the same night.
BAM! TWO LEGS!
Sure, fans questioned the existence of Ken's leg in the comments section.
But there's proof of Kendall being bipedal all over the internet, but you don't have to go any further than her Instagram.
She had two legs in Vogue.
She had two legs in Love.
She had two legs in Victoria's Secret.
She had two legs in Lyft.
If anything, this photo suddenly makes it unclear whether Kendall is just legs with no torso, no arms and no head.
Honestly, the deeper I dig, the more troubling it becomes. Could Kendall be merely two legs leading nowhere?
This is startling.
Truly a cause for concern.
The biggest friggin deal.
JESUS CHRIST, PEOPLE.
The worst part is, in the history of her relationship with the media, never has Kendall outright admitted to having either a torso, arms, a head or any combination of the three.
One hopeful item posted on the model's app back in September confirms Kendall has nipples, which suggests she at least has a torso.
She wrote,
Lately, it's like I'm either braless or I have my bra out, LOL. I'm all about freeing the nipple! I just think it's cool to show off what's under your shirt — whether that's a cute bralette or just skin.
I know, I know. Kendall does not clarify where on her body her nipples are situated. If she has nipples on, say, the bottom of her feet or just above her kneecaps, we're really back to square one.
Guess this is just one of the world's unsolvable mysteries.
Citations: Instagram