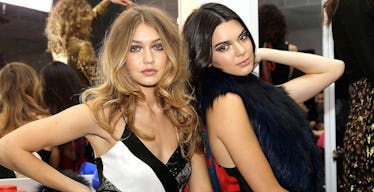 This Is How Much Kendall Jenner, Gigi Hadid And Top VS Angels Make In A Year
REX/Shutterstock
Kendall Jenner and Gigi Hadid are only 20 and 21 years old and already have made millions of dollars as Victoria's Secret models.
When I was 20, I was stuffing my face with free food in my college dining hall. I had 5 dollars in my bank account and slept on a mattress with no sheets.
But Kendall and Gigi, they're successful AF. And they also have a lottttttt of fucking money.
Forbes recently put together a list of the highest paid models so we can all live vicariously through them while crying and eating paper at our desks.
According to Forbes' research, Kendall Jenner and Gigi Hadid both make the top five.
It probably isn't a surprise to know Gisele Bündchen tops the list at number one.
The 36-year-old model has made loads from working with Chanel, Pantene and Carolina Herrera. She also has her own lingerine and skincare line to bring extra bucks to the bank. The model makes approximately $30.5 million in a year.
The number two spot belongs to Adriana Lima with an annual paycheck of $10.5 million. The mother of two got a lot of her earnings from partnering with Maybelline and L Brands-owened lingerie.
The third top-paid model is our girl Kendall Jenner. GO KENNY, GO!
The reality star's paycheck increased 150 percent in 2016 reaching $10 million. Last year, Forbes reported Kendall made approximately $4 million a year.
The star partnered with Calvin Klein and Estée Lauder, but Kendall's agency representative Chris Gay also attributes her success to her social media following.
Gay, the president of The Society Management, explained,
Our business has changed... These models [have] become more and more influential because they are the conduits of media -- not only somebody who can be the face of the campaign but a powerful means to distribute it.
I mean, it makes sense. Kendall has 68 million followers on Instagram compared to Adriana Lima who has 8.5 million.
Tied with Kendall is Taylor Swift's BFF Karlie Kloss. The model worked with 18 different brands including L'Oréal and Express.
After Kloss, Gigi Hadid and Brit Rosie Huntington-Whiteley come in tied at fifth place. They both earned roughly $9 million pretax. Like Kendall, Gigi's social media following also contributed to her increase in wealth.
Ivan Bart, the President at IMG Models commented on Gigi's earnings. He shared,
Models, YouTube stars, social media stars–this is their era. Models were on the cover of the last two issues of American Vogue: Gigi [Hadid] in August and Kendall [Jenner] in September.
Kendall Jenner and Gigi Hadid will also be walking in this year's 2016 Victoria's Secret Fashion Show. The best friends will be flying out to Paris at the end of November to walk the runway for the second year in a row.
Congrats on your earnings, ladies. Maybe you both could treat me to a nice dinner later. I've been craving mashed potatoes and steak.
Citations: Highest Paid Models (Forbes)