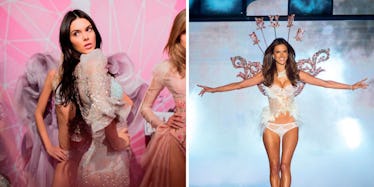 This Is How Much The Victoria's Secret Models Make In A Year
Instagram
While you were watching the Victoria's Secret Fashion Show last night, you were probably wondering,
How much do these women make for walking down that runway in 6-inch heels and massive Angel wings?
The exact numbers of each model's payout from the annual show are vague (possibly around $100,000), but reports do say the amounts are lower than previous years.
But don't let that make you feel bad for the models. They're still raking in plenty of money.
Forbes previously conducted some research into exactly how much these formidable faces bring to the bank.
Let's begin with senior Angels Adriana Lima, Alessandra Ambrosio, Candice Swanepoel and Lily Aldridge.
Forbes estimates Lima earns about $9 million a year, thanks to her other deals with Maybelline and Vogue Eyewear.
Ambrosio follows with about $5 million a year and has her own swim line.
Swanepoel, with the help of a Versace fragrance contract, also makes $5 million a year.
Aldridge, the face of Michael Kors, brings up the rear with $2 million a year.
Next up: the younger models. Forbes reports Kendall Jenner, who has graced the cover of Vogue and has a sweet deal with Calvin Klein, makes about $4 million a year.
The face of Free People, Martha Hunt, brings in $2 million.
And Gigi Hadid, who is quickly becoming one of the most recognizable faces in the industry, earns about $2.5 million.
Not too bad, ladies.
Citations: Inside The Earnings Of Taylor Swift's Girl Gang (Forbes), The Victoria's Secret Fashion Show: A $50 Million Catwalk (Forbes), Victoria's Secret Fashion Show Models Earn Staggering Amounts of Cash (Racked)