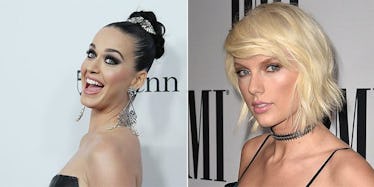 The Katy Perry And Taylor Swift Beef Shatters This Lame Myth About Feminism
REX/Shutterstock
As the world now knows, Taylor Swift and Katy Perry have lots of "bad blood" between them.
There has been all kinds of mud-slinging in the form of shady tweets and pop diss records (yeah, didn't know those were a thing either, but voilà: "Bad Blood" versus "Swish Swish.")
Katy Perry gave the whole beef run-down during an interview with James Corden on The Late Late Show.
Basically, the pop stars are feuding over background dancers. Swift thinks Perry tried to pilfer her employees and sabotage her shows, while Perry says they were hers first and about to complete their contract with Swift anyway.
Sounds like a misunderstanding that could be settled via a phone call, which is exactly what Katy Perry says she is game for.
But something tells me that after she compared Swift to an old receipt and told her to "kiss the ring" in her "Swish, Swish" tune, patching this thing up may require a wee bit more effort. Maybe a sit-down?
Either way, both women seem justified. See, if Taylor Swift feels she was being sabotaged, she has every right to be upset. Katy Perry, on the other hand, reserves the right to feel a way about Swift bringing their disagreement into a public space with a record — particularly if she truly was not trying to hurt Swift's business.
Again, phone calls ladies. They work when your line and heart are open.
But the feminism slander from fans is really the most annoying part of the beef.
Sigh. It seems any disagreement between women warrants questions about how "down" they are with the feminist movement.
Oh, people.
Being a feminist does not mean that you always get along with other women.
This is the definition of feminism, according to Merriam-Webster:
the theory of the political, economic, and social equality of the sexes organized activity on behalf of women's rights and interests
This, my friends, is not the definition of feminism:
go along with whatever other women say or do to you because you wouldn't want people to say you aren't a feminist, right?
The belief that feminists should all get along needs to die because it's sexist.
Of course, feminism is about making sure that women maintain rights equal to those of men. Uplifting other women as much as possible so that those equal rights can actually happen does come with the territory.
Still, having a disagreement with another woman does not mean that you are not a "real feminist" or that you aren't about "girl power." In fact, this is an unrealistic and sexist expectation of women because no one ever requires this of men.
When guys beef with each other, no one calls them out for not being supportive of other men. Consider the infamous (and hilarious) beef between the two rappers, Drake and Meek Mill.
We did not tell them that they should not be arguing. Instead, we chose sides, deciding that Mr. Hotline Bling is our Champagne Papi for life.
We also deduced that Meek Mill did not deserve Nicki Minaj because: loser!
It was fun and games, and now that the beef is presumably over, we've all moved on and neither of them lost anything except maybe a little street cred, Meek's way.
Women deserve the same right to feel how they feel without being told they should put all of feminism above their valid thoughts and beliefs. Women deserve to stand up and speak up for themselves, even if it is to another woman. Feminism doesn't mean "let a woman walk all over you in the name of girl power."
Saying women are not feminists because they don't do that is basically suggesting that they do not want equal rights just because they have conflict.
If Katy Perry feels like she was bullied and Taylor Swift feels like she was sabotaged, then let them work that out.
Besides, we all know that unless you're an ex-boyfriend, Swift can't hold a grudge anyway.
I predict there'll be a platinum-selling collab record by the end of 2017.