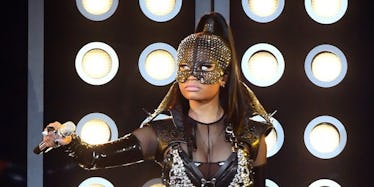 Nicki Minaj Killed The 2017 BBMAs With Star-Studded Opening Performance
Ethan Miller/Getty Images
The 2017 Billboard Music Awards just started, and Nicki Minaj already won the night.
The 34-year-old rapper took the stage at the T-Mobile Arena in Las Vegas, Nevada, on Sunday, May 21, to deliver one of her greatest performances of all time.
For weeks, the Billboard Music Awards was teasing her performance on Twitter, so fans really didn't know what to expect.
All we knew going into tonight was that Nicki would open the show and bring David Guetta, Jason Derulo, and Lil Wayne on stage with her.
...And she did.
The rapper performed a star-studded medley and totally slayed. Check out the performance below:
Nicki Minaj is known for making headlines during awards shows. At the 2015 Video Music Awards, the star called out Miley Cyrus while accepting her award for Best Hip Hop Video and muttered the three infamous words, "Miley, what's good?"
The beef between Nicki and Miley actually started because the "Malibu" singer got involved in Nicki's feud with Taylor Swift.
Nicki accused the VMAs of racism for not nominating "Anaconda" for Video of the Year, and Taylor Swift publicly responded on Twitter by defending her nomination for "Bad Blood."
Miley Cyrus reportedly dragged herself into the drama by talking smack about Nicki during an interview with the New York Times.
Nicki decided to use the awards show as the perfect opportunity to put Miley in her place... and it was awkward AF.
It was that same night Nicki took the stage with Taylor Swift and performed a mash-up of "The Night Is Still Young" and "Bad Blood," even though we all thought they hated each other... lol.
It was shocking, to say the least.
Nicki may know how to bring the drama, but she also brings the heat. Her performance at the BBMAs was straight fire and a great way to start the night.