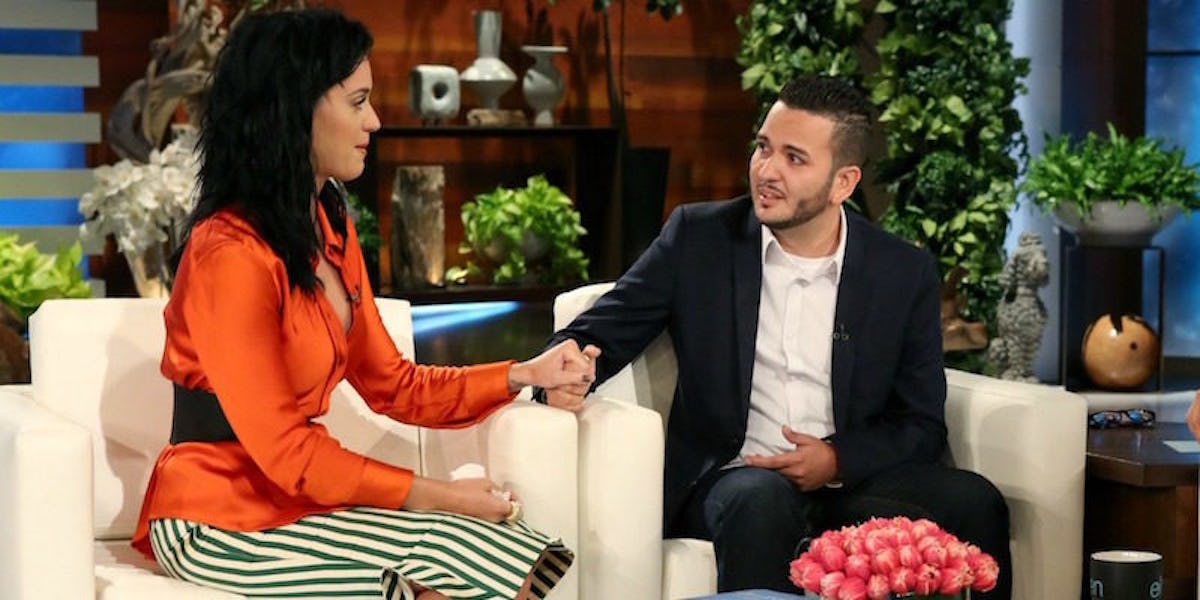 Katy Perry Gave An Orlando Shooting Survivor An Emotional Surprise On 'Ellen'
YouTube
Believe it or not, it's been nearly three months since the tragic Orlando shooting took place at Pulse Nightclub.
Despite the fact that many of us have managed to mourn the loss of the innocent people made victims of senseless gun violence, we'll never forget what happened on June 12, 2016.
As a matter of fact, some people are stilling in mourning.
The inspirational Katy Perry appeared on "The Ellen DeGeneres Show" just after Labor Day on Thursday with one goal in mind -- surprising Tony Marrero, a survivor who made it out of the Orlando shooting alive.
The 31-year-old singer consoled Marrero as he reflected on his horrifying, face-to-face encounter with hatred and gun violence in America.
So, why Katy Perry? Well, it turns out the singer's hit song "Rise" actually helped 30-year-old Marrero cope with recovery as he tried to regain strength and health after suffering multiple gunshot wounds.
Tony Marrero opened up to Ellen, saying,
The lyrics to that song are so powerful. I play it and play it because it is so beautiful.
Just after Marrero revealed how much the song has helped him through his tough time, Ellen asked him if he wanted to meet Katy.
A couple of seconds later, Katy Perry came walking out from backstage to greet Marrero. He couldn't help but confess to Katy how much "Rise" helped him, saying,
I just wanna say thank you for everything you did. Your lyrics to that song helped me from the day that I was in the hospital, all the way to now.
Katy Perry then responded,
I'm happy I could be there in my own little way to help you.
It DIDN'T stop there. Katy Perry had heard that Pulse shooting survivor Tony Marrero was a creative just like her. That's when she offered to pay for his first year to attend film school, saying,
I've heard that you're creative just like me. I personally want to pay for your first year at film school.
Isn't that just amazing?! The emotional moment shows how much celebrities are affected by national tragedies, like the one that happened in Orlando, even when you think they're too caught up in their own lives.
Check out the emotional video above for a closer look! You might want to keep a tissue handy.
Citations: Katy Perry Surprises Orlando Shooting Survivor Tony Marrero on 'Ellen' (Entertainment Tonight)