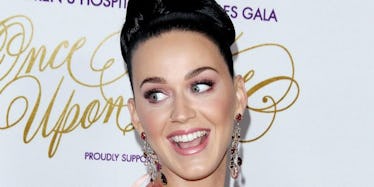 Katy Perry Hid Disco Balls All Over The World To Debut Her New Single
REX/Shutterstock
Do you ever feel like a plastic bag? I don't... at least not very often.
But I certainly do when I hear Katy Perry is coming out with a new banger called "Chained to the Rhythm," and she's hidden disco balls around the world so fans can catch a sneak peek.
Perry hasn't released a new song since her fourth studio album Prism way back in 2013.
On Tuesday night, Perry sent out a tweet that read "Why are we all so chained?" Along with it was a short video of her foot chained to a disco ball.
It told fans to be on the lookout on February 10, when the song will be officially released.
But she also tweeted out a hint: The disco balls weren't just something shiny to look at -- they also played her new song if you found one with your creepy peepers in the wild.
Ugh, who has the patience to wait until Friday when we've already waited three years?!
Not one to leave her fans hanging, Perry tweeted out a link to a map that included all the locations where the disco balls are hidden.
Thank God, because I am not a fan of scavenger hunts and also, I would probably get lost very quickly.
Just look at all of those balls.
Sorry Antartica, Africa, Canada and Central America. It looks like you and Taylor Swift have something in common now: a feud with Katy Perry.
This fly-looking dude discovered the ball on his hike by Griffith Observatory in LA.
But I suspect he went there just to find the disco ball to take this picture. No one looks this cool while hiking, right?
One fan took a skateboard adventure to find the disco ball by the Chicago Theater.
Fun fact! When I used to live in Chicago, there was a crazy person who had a megaphone by that Old Navy who would describe how every passerby would be going to Hell!
He said I was going for premarital sex, but I was a virgin at the time, holding my then boyfriend's hand. But I'm a lesbian! So who knows? We'll see what I'm going for.
Let's be honest, though. There are plenty of places where people can't realistically reach their closest ball.
Nailed it.
You have to admire the dedicated fans who created their own DIY "Chained to the Rhythm."
Katy Perry is set to perform at the 59th annual Grammy Awards this Sunday.
Citations: Katy Perry Premieres New Song 'Chained to the Rhythm' at Disco Balls Around the World (People)