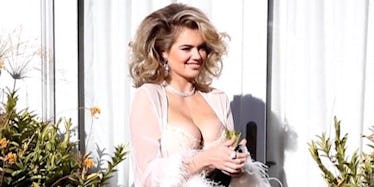 Kate Upton Plays A Sexy Game Of Hide And Seek In This Racy Lingerie Video
YouTube
I hate to be the bearer of bad news, but it appears Love magazine's Advent calendar event is finally coming to an end.
It was one hell of a run, right?
Love's sexy Advent videos have absolutely lit up this holiday season, with the likes of Emily Ratajkowski, Abbey Clancy, Kendall Jenner, Hailey Baldwin and others bringing some serious heat.
But while Love magazine's Advent may be coming to an end, it doesn't mean it's not going out with a bang. The very last Love Advent video features the incredibly sexy and voluptuous Kate Upton.
The 24-year-old model is engaged to Detroit Tigers ace pitcher Justin Verlander, but she just showed every other man on the planet what she's working with.
As you can see in the clip above, in the final Love Advent video, Kate Upton plays a very sexual game of hide and seek with the camera.
During this tantalizing game of hide and seek, Upton is wearing nothing but some very revealing and racy lingerie.
According to MailOnline, and my wide-open eyes, Kate Upton channeled her inner Marilyn Monroe for the final Love magazine video, and I think it's safe to say she absolutely nailed it!
After watching this video of the bombshell tease in her underwear, I just want to have a glass of champagne with Kate Upton; that's all I want to do.
To caption the above video, Love magazine wrote,
Beautiful Kate Upton is our final #loveadvent. THANK YOU EVERYONE 77 MILLION VIEWS.
Holy hell, that's a lot of views!
I don't know what Justin Verlander did in his previous life to hit the lottery in his current one, but I bow down to his greatness, on and off the baseball field.
I'm just going to go ahead and speak for everyone and thank Love magazine for delivering the greatest gift of the holiday season.
Seriously, these videos have been nothing short of breathtaking, and I can't think of a better person to drop the mic than the super sexy Kate Upton.
Citations: Saving the best for last! Buxom bombshell Kate Upton looks every inch the retro pin-up as she plays hide and seek in lingerie for final LOVE advent video (Daily Mail)