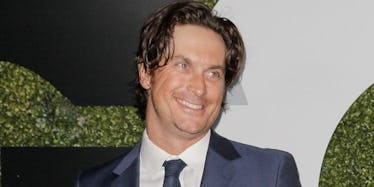 Kate Hudson's Brother Shares Bizarre Post About His Sister 'Dating' Brad Pitt
REX/Shutterstock
Rumors that Kate Hudson and Brad Pitt are dating in the midst of his messy divorce from Angelina Jolie have Kate's brother Oliver Hudson testing out his creative writing skills on Instagram.
The "Scream Queens" actor snapped a pic of a newsstand headline suggesting Brad had moved in with Kate. The magazine also suggested her mother Goldie Hawn is super supportive of the new couple.
Oliver shared the picture with Instagram followers, captioning it with outrageous, fabricated details about the rumored couple.
He wrote,
[Brad is] messy as shit! He drinks out of the fucking carton and leaves the door open when he's taking a dump!! And this is when he's at MY house!!! He's already calling me brother and has driven a wedge between myself and my real brother Wyatt who now won't speak to me.. he insists my kids call him uncle B and lost my youngest at the Santa Monica pier for 2 days.. thank god for amber alert.. my mom's [Goldie Hawn] overtly flirting with him! Shes wearing these little nighties around the house now?! But ALL DAY!! Like at 3pm! And Pa just keeps saying 'All right!! It's Brad Pitt!!' Anyway not going well.. so BP.. it's time to move out man.. oh and I found your medical bracelet so I'll get that back to you..
Sick burn after sick, sick, almost-dead-it's-so-sick burn...
Oliver's mom is laughing off rumors about her daughter and Brad, too. Last week, in a video shared by The Sun, paparazzi asked if the actress was "ready to have Brad as a son-in-law," to which she replied,
You did make me laugh.
Good. As long as the Hawns and Hudsons are laughing, they're free from the anguish the Jolie-Pitt family is experiencing this year.
Last week, the ex-couple released a statement concerning the status of their confidential court documents.
The statement read,
The parties and their counsel have signed agreements to preserve the privacy rights of their children and family by keeping all court documents confidential and engaging a private judge to make any necessary legal decisions and to facilitate the expeditious resolution of any remaining issues. The parents are committed to act as a united front to effectuate recovery and reunification.
Following prior disputes over documents Angelina had made temporarily public, it's reassuring to see the two back on the same page.
Citations: Oliver Hudson Jokes About Sister Kate Hudson's Rumored Romance With Brad Pitt (Us)