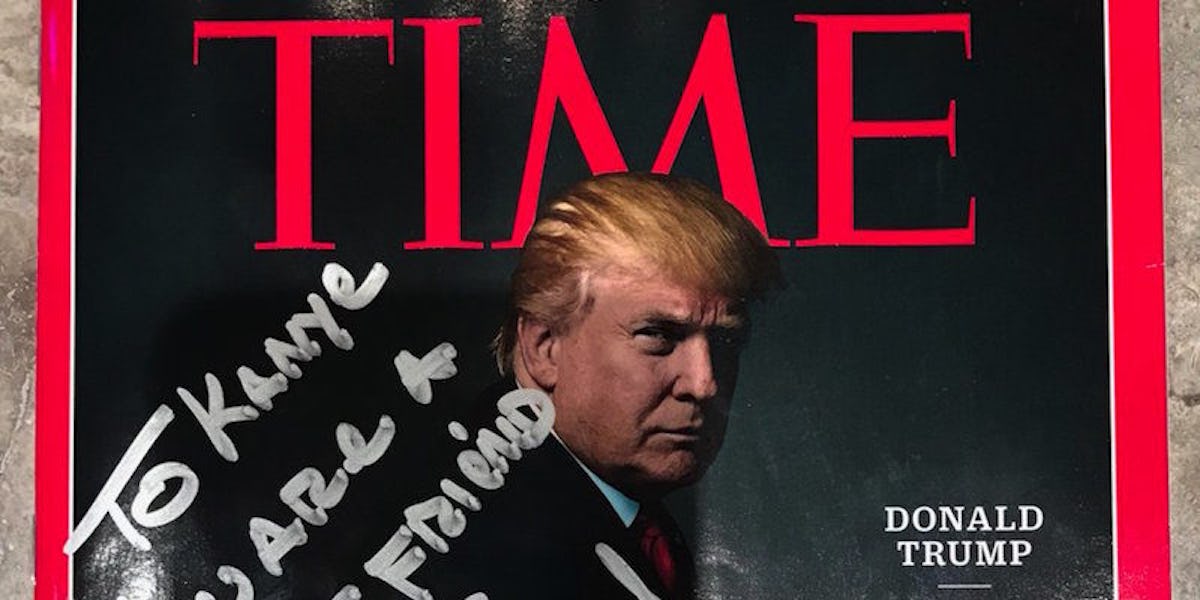 Donald Trump's Message To Kanye West On Signed Time Cover Will Make You Cringe
Twitter
Kanye West got an interesting souvenir during his meeting with Donald Trump on Tuesday.
The 39-year-old pop culture icon made headlines this week after paying a visit to the president-elect's office in New York.
It turns out, West didn't leave Trump Tower empty handed, posting a photo to his Twitter account of a signed copy of Donald Trump's Time magazine cover.
Donald signed the magazine, "To Kanye you are a great friend thanks Donald Trump" (his choice not to use punctuation, not mine).
West's meeting with Trump prompted widely negative feedback online. After video of his visit began to go viral on the web, Kanye broke his Twitter silence to shed some light on what the two talked about during their meeting.
The implication with the last tweet is Kanye will be delaying his run for president, which was supposed to take place during the 2020 election, until Trump ends his second term in office.
Though the content of the meeting itself remains fairly ambiguous, many are speculating the two potentially spoke about Kanye performing at Trump's inauguration in January.
E! is reporting that a source close to the situation says Trump talked with West about becoming an "ambassador of sorts," adding that Kanye could take on an "entrepreneurial leadership role," whatever that means.
The source also said,
Trump thinks he's a great role model when it comes to business.
In November, Kanye told audiences at a Saint Pablo Tour concert he didn't vote, but if he did, he would have voted for Trump.
After a few more weirdly placed concert rants and early show exits he canceled the rest of the tour before being admitted to UCLA Medical Center for psychiatric evaluation.
The move to visit Trump comes on the heels of West's release from the hospital.