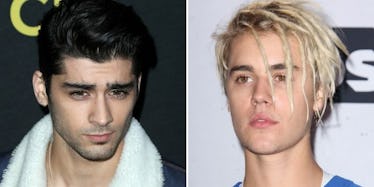 Justin Bieber And Zayn Malik May Collaborate On New Song And Fans Can't Even
REX/Shutterstock
Something massive is coming for pop music fans! Two of the biggest male pop stars might be teaming up on a song soon, and it's pretty safe to assume it's going to be the song of 2017.
Apparently, Justin Bieber is a major Zayn Malik fan, and the two singers are talking about collaborating on a new song.
A source told The Sun that the two superstars are chatting up a storm and throwing song ideas back and forth right now for a collab that would appear on Zayn's upcoming album.
Justin has been really complimentary of Zayn's new music and there have been tentative discussions about them working on something together. They are in touch and chatting about all sorts and getting on like a house on fire – Justin even retweeted a link to Zayn's single on his Twitter which he doesn't just do for anyone. It would be a huge collaboration if it happened so watch this space.
Obviously, this collaboration is going to completely own the radio when it happens!
And Biebs is definitely making his Zayn fandom known to the world. Over the weekend, he posted a screenshot of his phone playing Zayn's new single "Still Got Time" (featuring OVO rapper PartyNextDoor), captioning the pic "VIBES."
So, it looks like Biebs is definitely a fan of Zayn's new stuff, which makes sense since the two pop stars have gravitated from their bubblegum pop career beginnings into more mature, R&B-influenced electropop in the last year.
Zayn cut ties with boy band One Direction and released his sultry debut solo album "Mind of Mine," and Justin surprised fans by releasing the electronic-tinged album "Purpose."
When you think about it, it actually seems like such a no-brainer that Zayn and Justin would work together — they're two of the biggest names in music right now, and they've both developed a very similar sound recently.
Some fans have been sensing this collaboration for a while now, pointing out that Justin and Zayn began following one another on social media just last month:
The only potential weirdness would be the big dating web that the two pop stars have both found themselves to be a part of recently — though it seems like they're on the same side of things for now.
Zayn is dating Gigi Hadid, whose sister Bella recently broke up with The Weeknd. Now, The Weeknd is dating Justin Bieber's ex, Selena Gomez.
But I wouldn't expect a Weeknd diss track from Zayn and the Biebs. I mean, Zayn did just collaborate with The Weeknd's friend and label-mate PartyNextDoor on his new single, so I don't think he's willing to ruffle any feathers.
Whatever the track is going to be about, one thing is for sure: It's going to be huge! Fans are already freaking out over the potential collaboration:
C'mon, Justin and Zayn! Your fans are anxiously waiting!