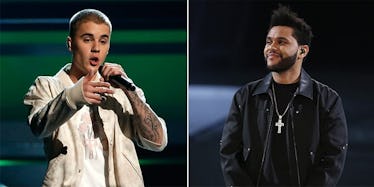 Justin Bieber Beat The Weeknd For An iHeartRadio Award And We All Missed It
REUTERS/REX/Shutterstock
Last night's iHeartRadio's music awards, aka the Diet Cherry Vanilla Dr Pepper of the Grammys, featured a moral win for the Biebs.
The 23-year-old singer took home Male Artist of The Year honors at the award show, beating out Drake, Shawn Mendes, Luke Bryan and, most importantly, The Weeknd.
NOW THEY'RE EVEN!*
HOW. DOES. THAT. FEEL. ABEL.
WOOOO!!!! JUSTIN OWNS YOUR BEAUTIFUL TUSH, THE WEEKND!
YOU MAY BE DATING SELENA, BUT JUSTIN IS THE WINNER OF THIS AWARD FROM A SHOW I JUST REMEMBERED EXISTED ABOUT HALF AN HOUR AGO!!!!
*Justin Bieber and The Weeknd are 1,000 percent not even. The Weeknd is universally loved and is dating Selena Gomez, while most people think Justin Bieber is the actual devil and would pay good money for him to leave Selena Gomez alone.
The Weeknd's hair is also cooler.
The funny part about all of this is that iHeartRadio didn't even air the award being announced during the live broadcast last night.
Though it hasn't been confirmed, this is likely because neither Bieber nor The Weeknd were actually in attendance at last night's show.
Justin also took home honors for Best Lyrics for "Love Yourself," which he worked on with Ed Sheeran.
Bieber has spent the larger part of the past several years trying to get over Gomez, who is clearly obsessed with The Weeknd and, more directly, totally over Justin at this point.
In an attempt to make his way out of this funk, Justin has been plowing through Hollywood genitals first with an emphasis on boinking anyone with a sizable Instagram following.
At one point he was shtupping Kourtney Kardashian, and although the two have since cooled things down, they are at least still on good terms.
Both were recently caught going to church together, leaving the rest of us wondering whether or not this thing they have going on is actually done with.
Only time will tell.
Citations: Justin Bieber Beats The Weeknd For iHeartRadio's Male Artist Of The Year (Hollywood Life)