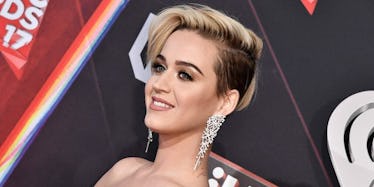 Katy Perry Managed To Wear Both A Dress And Pants On The iHeartRadio Red Carpet
REX/Shutterstock
Katy Perry killed the red carpet at the iHeartRadio Music Awards on Sunday, March 5.
The 32-year-old singer strutted her stuff wearing what appeared to be a gorgeous floor-length gown. She rocked a pixie cut and polished off her look with beautiful silver earrings.
Seriously, take a moment and look at her. Katy Perry was slaying.
As amazing as the star looked, there's something you should know about her outfit because it will totally blow your mind.
Are you ready for it? Katy Perry was actually wearing pants.
*GASP* I know. She literally fooled us all.
While interviewing on the red carpet with Extra TV, Katy Perry revealed her dress was actually a pair of pants.
Yup, I'm speechless. It's definitely one of the coolest outfits I've ever seen on an award show red carpet.
I'm not the only one who's totally obsessed. Fans went to Twitter to talk about Katy Perry's incredible look.
Yup, the whole Internet agreed Katy Perry was the best-dressed celeb at the iHeartRadio Music Awards.
Want another surprise? She changed her outfit right before her opening performance. Yup, Katy shimmied her way on stage wearing a red pantsuit and matching shoes.
The star gave it her all while performing "Chained to the Rhythm" and even danced with a giant hamster.
Sooo @katyperry has a huge hamster on the stage #iHeartAwards pic.twitter.com/Lmg3Cx5Awo — iHeartRadio (@iHeartRadio) March 6, 2017
I mean, it's Katy Perry. Would you expect anything less?
Many people believed her performance was a statement on the unfair practices of child labor.
This isn't the first time Katy has used her music to make a political statement during an awards show.
At the Grammys, she performed her new song and used it as an opportunity to comment on her dissatisfaction with Donald Trump's presidency.
Katy Perry, way to crush another red carpet and performance. You're the MVP of the night, that's for sure.