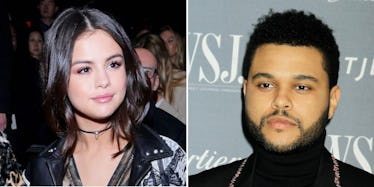 The Weeknd Never Looks Interested In Selena Gomez And We Need To Talk About It
REX/Shutterstock
Selena Gomez and The Weeknd have been smooching it up full time for all of 2017 so far, but one of them is either being imprisoned against his will or suffers from a case of resting weep face.
In a new pic of the couple sitting outside of L'Arc nightclub in Paris, Selena kisses her man on the cheek as he stares numbly into the middle distance.
This isn't the first time The Weeknd's face has glazed over with hollow sadness while chilling with his lady love.
The first time the pair was caught smashing mouths, the "Starboy" singer looked like he'd just watched Jared Fogle escape prison and steal his tour bus.
Perhaps his ex's concerns about Selena's ulterior motives are getting to the 27-year-old.
After all, sources told Us Weekly Bella Hadid — whose relationship with The Weeknd ended shortly before photos of him and Selena sucking each other's breath circulated — insisted Selena is "using" her ex-man for relevance.
True Selenators know she doesn't need a man to stay famous. She's a pop star with an admirable identity and hair that looks like it always smells amazing. Selena is set, thanks.
Whether The Weeknd is set, though, is still TBD. Someone needs to get to the bottom of this.
Do any of you know Abel Tesfaye personally? Can someone call him and ask if…
1.) All the dinosaurs in his dinosaur park broke loose. 2.) His mom accidentally launched herself into space while building bottle rockets in the backyard. 3.) He found the actual Bin Laden and realized we killed the wrong guy. 4.) His phone died. 5.) Selena has been kidnapped and replaced by Barty Crouch Jr. and a flask of polyjuice potion. 6.) He's just thinking about America. 7.) His legs are secretly pasta and he must strain very hard to walk and stand. 8.) He can't feel his face, but for medical reasons, not cocaine reasons. 9.) He just found out that most of the members of Creedence Clearwater Revival are dead. 10.) His team lost the big game.
Someone check on him, please.