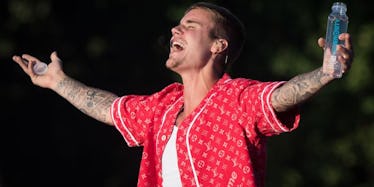 Sorry Beliebers, Justin Bieber Might Not Go To The VMAs For This One Reason
Samir Hussein/Getty Images
Justin Bieber not going to the VMAs is like Beyoncé without a wind machine blowing her hair on stage – it's just not right. We all know The Video Music Awards are nothing without a little Bieber action. He stirs up drama, shows up at the last minute, and usually offends as many people as he can. Let's get Justin Bieber at the VMAs, OK? That's what makes the VMAs so great. It's usually total and complete chaos and Bieber brings the chaos. Please deliver us the Bieber.
Since Bieber pretty much leads a cult following of beliebers, his fans are pissed he may not attend the show. Give the guy a break. His song "Despacito" – that's been stuck in our heads since the beginning of time – was not nominated for a Video Music Award. WTF? The music community was shocked by the nomination diss, considering "Despacito" has been viewed more than 3.2 billion times, which makes it the most-watched video of all time on YouTube. Yeah, I think it deserves something. In a statement to the Associated Press, MTV explained the apparent snub, saying,
The 'Despacito' video was not submitted for consideration.
That's probably the reason Bieber will be a "no show." And there will be "no show" without Bieber. See what I did there?
 According to multiple sources, Bieber skipped the 2016 VMAs last year because he was hanging out in a strip mall bar in Studio City, California, drinking Jack Daniels and singing karaoke. So, don't expect him to be waving a giant MTV flag around anytime soon. The Biebs sketches out... a lot.
Remember Bieber's performance of "What Do You Mean?" at the 2015 VMAs? When he flew around on wires, then broke down crying? The VMAs are a lot for our main man J. Biebs. He's either crying, fighting, or not showing up. All I gotta say is I really wanted a "Despacito" performance, Bieber. Make it happen... for all of us.