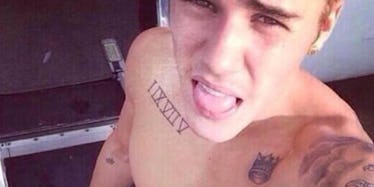 Justin Bieber's Ex-Fling Might've Posted A Fake Nude Photo Of Him On Instagram
Instagram
The ongoing drama in the chaotic life of Justin Bieber just took a wild turn.
It all started when Justin and Sofia Richie sparked dating rumors that outraged "beliebers" everywhere.
Justin's loyal fans just couldn't grasp why he was spending so much time with the 17-year-old and plastering their PDA-filled trip to Japan all over social media.
Justin uploaded a photo of him and Sofia in the backseat of a car with a caption urging his fans to stop disrespecting Sofia Richie and threatening to delete his Instagram account if they didn't.
That's when Selena Gomez stepped in and exchanged harsh words with the 22-year-old singer.
As of now, Selena Gomez has been trying to contact Bieber relentlessly but he wants nothing to do with her.
Most recently, an ex-fling named Chantel Jefferies, who dated Justin Bieber a while back, is making headlines after a fake nude photo of Bieber was uploaded to her Instagram account with a caption that read "I love you, Justin" with two emojis next to it.
The NSFW photo racked up about 3,000 likes in just 15 minutes before it was deleted.
So, where did this photo come from and is it even slightly real?
No, it's actually VERY fake. Here's the original.
Chantel Jefferies took to her Twitter account to say her Instagram account was hacked.
Then she posted this photo flipping off the "hacker" from her "lawyer's office."
In addition to these references regarding the alleged hacking, the 22-year-old model also took to Snapchat, saying,
Whoever hacked my Instagram account has got me so f*cked up right now. This is why I like Snapchat because nobody can pretend to be me.
Look, all I'll say is this -- if there's ANY EFFECTIVE WAY to thrust your name into the ongoing drama surrounding Justin Bieber, it probably helps if you're one of his ex-flings and you have a Photoshopped nude of him on your phone.
Chantel isn't the only person whose name has popped up regarding Bieber in the last couple of weeks.
In addition to Sofia Richie, Selena Gomez and Chantel Jefferies, Hailey Baldwin was quit to shut down any rumors that she was referencing him on Instagram after many people suspected that she was directing subliminal messages at Bieber using social media.
Someone give this kid a break already!
Citations: Justin Bieber Naked Photo Posted On Ex Chantel Jeffries' Instagram Page: Is It Real? (Hollywood Life)