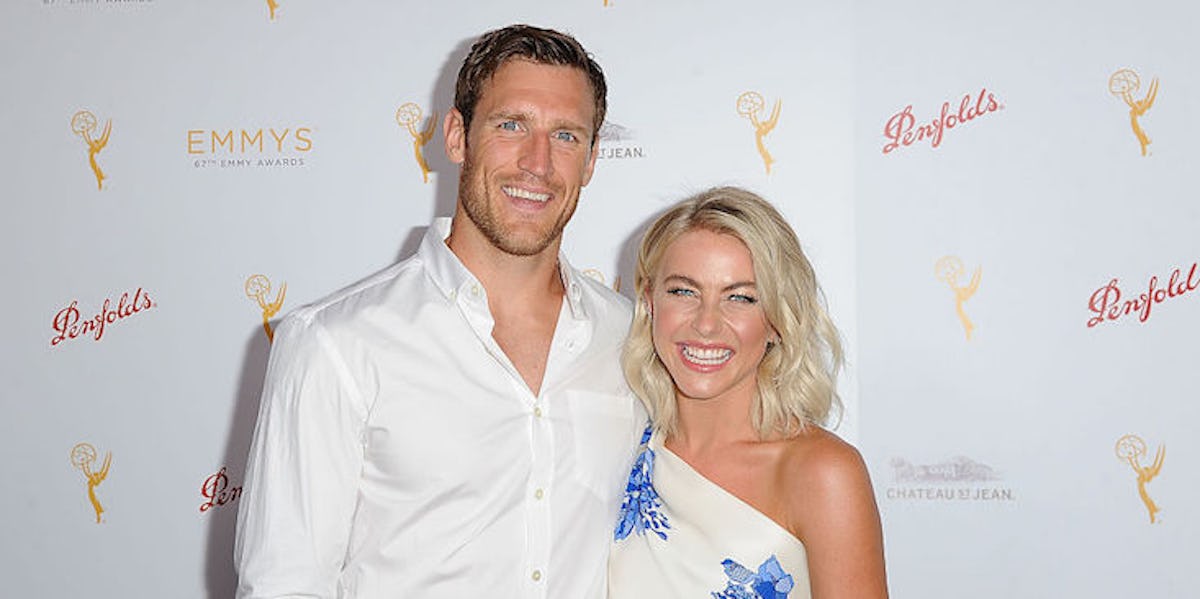 9 Pics That Prove Julianne Hough And Brooks Laich Are The Cutest Couple Ever
Angela Weiss/Getty Images
Julianne Hough got married to Brooks Laich last weekend, an NHL player and her beau of 3 and a half years. Their Idaho ceremony looked like a dream come true, but that's nothing out of the ordinary for this picture-perfect couple.
From a first date at Disneyland to a sunset-by-the-lake proposal, Julianne Hough and Brooks Laich have been relationship goals since day one. Here are some pictures that prove it.
The time they showed some love at lunch.
Lucky for us, Hough and Laich love sharing cute couple pics online. Here's just one of the many where they seem madly in love. Aww.
They indulge in fitness together.
Look how insanely fit they both are. That's some real strength.
Their Christmas family photo is everything.
They're looking pretty good for an ugly sweater party. Also, if there's one thing you need to know about Hough and Laich, it's that they love their dogs -- two Cavalier King Charles Spaniels named Lexi and Harley. So much that they were literally the ring bearers at their wedding.
They still look amazing in PJs.
This shot from Laich's Instagram is the ultimate "she made me do it" couple post. And like all great posts of the genre, Laich is "complaining" about having to look silly online while being fully aware of how good he actually looks.
The puppy shots just keep coming.
These honeymooners really love their dogs. You can't help but think they'd be really good parents in the future. You know, to an actual child.
They make date night look so fashionable.
Based on Instagram, the secret to this pair's relationship seems to be date night, or rather #datenight. They seem to have one at least once a month because keeping it fresh is key.
They support each other.
One of the perks of dating Julianne Hough has got to be all the invites to cool Hollywood events like the Emmys. Another perk of dating Julianne Hough has got to be being married to a friggin' Emmy winner!
Hough told People her wedding was "perfection." I wasn't there, but for these two, it's hard to imagine anything less.