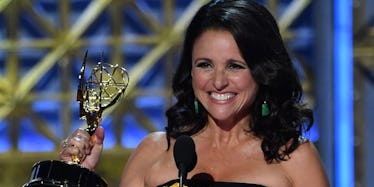 Fans Are Showing Support For Julia Louis-Dreyfus On Twitter After Cancer Diagnosis
FREDERIC J. BROWN/AFP/Getty Images
Actress Julia Louis-Dreyfus announced her breast cancer diagnosis to fans on Sept. 28 in a touching and inspiring Twitter post. Fans reacted by sharing so many well wishes, kind thoughts, and prayers for her recovery in an outpouring of tweets about Julia Louis-Dreyfus' cancer diagnosis. It's amazing how the actress' thoughts on her own scary personal medical situation included a call to action.
Louis-Dreyfus shared a letter with the tweet: "Just when you thought..."
The actress wrote: "1 in 8 women get breast cancer. Today, I'm the one. The good news is that I have the most glorious group of supportive and caring friends, and fantastic insurance through my union."
She continued: "The bad news is that not all women are so lucky, so let's fight all cancers and make universal health care a reality."
Louis-Dreyfus just won her sixth consecutive Emmy for her role on HBO's Veep. In a statement to The Hollywood Reporter, HBO noted that Louis-Dreyfus learned of her diagnosis one day after the Emmys.
HBO wrote in their statement: "Our love and support go out to Julia and her family at this time. We have every confidence she will get through this with her usual tenacity and undaunted spirit, and look forward to her return to health and to HBO for the final season of Veep."
After Louis-Dreyfus tweeted the news, her fans poured out the love and support, with tweets such as: "I have no doubt that JLD will be back in the Emmy's stage next year winning Emmy #7 for playing Selina Meyer."
Writer Molly Knight tweeted to the actress: "We love you so much, Julia. You've got an army of fans ready to fight with you as well. Just send up the bat signal when needed."
Knight also tweeted: "Please everybody think good thoughts for JLD. We need her to be cancer-free ASAP" and noted how the actress is using the announcement to shine a light, tweeting: "Look at @officialJLD turning her cancer diagnosis into a rallying cry for healthcare for all. GOAT."
Still another fan stated what we all know about Louis-Dreyfus: "I've literally never had so much faith in a person beating cancer than I do JLD. She's an icon/hero to me and BEYOND a badass."
Actress Christina Applegate, who underwent a double mastectomy in 2008 after being diagnosed with breast cancer, reached out in support as well, offering: "Mama, find me. Let's talk if you want."
Actor Michael McKean tweeted: "Cancer is no match for you. Stomp it good. Xox"
Another fan noted that literally all of Twitter has her back, writing: "On behalf of ALL twitter, I say this: we love you. Yes, all." Cosigned.
And this fan was impressed with Louis-Dreyfus' call to help others, tweeting: "Thank you for leveraging your hardship for the benefit of many. You're an absolute legend. You got this."
This fan agreed, writing: "Best wishes for a full recovery and THANK YOU for shining a light on all cancer patients who need universal healthcare."
Another person echoed the thank you and well wishes, writing: "Julia, this breaks my heart, but thank you for still using this as a platform to advocate for others, much love & healing thoughts to you."
Actress Debra Messing sent her best healing thoughts, tweeting: ""J sending all my healing energy your way. You are incredible to use this moment as an opportunity to support others."
And actress Anna Kendrick so perfectly summed up what so many are feeling, tweeting: "F*ck. F*ck. I don't think I realized how much I love this woman, who I don't know. Love her more for speaking up for others in this moment."
We're wishing the best for Louis-Dreyfus and her family and know she'll beat this.
Check out the entire Gen Why series and other videos on Facebook and the Bustle app across Apple TV, Roku, and Amazon Fire TV.