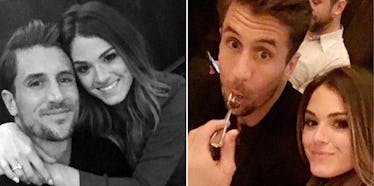 JoJo And Jordan Rodgers Had The Most Adorable Surprise Engagement Party
Instagram
JoJo Fletcher and Jordan Rodgers have to be one of the cutest couples to come out of "The Bachelorette" or "The Bachelor," and now we know they have cute families too.
According to photos and videos on social media, the families of the two lovebirds got together in Texas to throw the couple a surprise engagement party.
Apparently, JoJo and Jordan just thought they were headed to a small dinner with friends, but were totally surprised instead.
JoJo uploaded a photo of both their families and said in the caption,
My heart is so full! Jordan and I were going out to what we thought was just a little dinner with friends but instead walked into a room full of both our friends and family to celebrate in our engagement. We are so incredibly blessed.#fletchersmeettherodgers
Luke Rodgers, Jordan's oldest brother was there, while Aaron Rodgers, his older brother and the NFL quarterback for the Green Bay Packers, was not in attendance, presumably due to the ongoing controversy about his and Jordan's relationship.
So even though their entire families weren't at the dinner, it still seemed like a joyful occasion for the new couple.
Check out some of the photos and videos below and try your hardest not to say "awwwww."
Just try to tell me this isn't the most adorable surprise ever. Both JoJo and Jordan seem completely surprised to see everyone.
Jordan and his brother, Luke, both posted this photo and wrote the most loving captions for each other.
Jordan wrote in his caption,
When you think you are just going to dinner with your fiancé and a few friends and you walk into a room full of both your families and best friends! So blessed to not only have found the love of my life @joelle_fletcher , but have an amazing family and new family to share a life with. So blessed to do life with these people! #fletchersmeettherodgers
Luke said in his caption,
Love this dude more than anything. So great surprising my baby bro and his fiancé @joelle_fletcher tonight.@jrodgers11 #brothers #love #family
Based on this Snapchat, it looks like everyone was having a great time.
Jordan and Luke seem to be having a particularly good time hanging out together.
Of course, Jordan and JoJo made sure to make time for a couple of adorable selfies. They really are a beautiful couple, like, literally, I could look at them all day.
Even if they weren't so beautiful, I love just how much fun they seem to have together.
It seems like operation #FletchersMeetTheRodgers was a huge success.
Citations: JoJo & Jordan's Families Threw Them A Surprise Engagement Party (Refinery29)