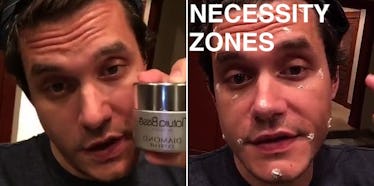 John Mayer Proves He's Also A Beauty Influencer With His Skin Care Snapchats
Snapchat
When you think of John Mayer, you typically envision the Grammy-winning singer and songwriter with an unbreakable Pokémon Go addiction.
John Mayer's latest Snapchats, however, show the world a much different side of the 38-year-old musician.
Who knew Mayer was so in tune with his beauty upkeep?!
The singer took to Snapchat to introduce fans to his nighttime beauty routine, informing viewers about the various skincare techniques he uses to keep himself intact.
After washing his face with Proactiv, John used Natura Bissé Diamond Life Infusion, which retails at $590 per bottle. Must be nice, John.
Next, he introduced viewers to a trusty technique he calls D.A.T., which stands for "Direct Application Technique."
In other words, John wants you to apply products straight from the bottle before massaging your face rather than pouring some into your hand first.
OK, bro.
Let's just say John might need to consider being one of those internet famous YouTube vloggers who get paid boatloads of cash just to show you how to apply makeup and skin care ointments.
Step three, he applied a Vitamin C and E complex to his "laugh lines" as an anti-aging remedy.
For step four, John showed off another pricey product called Natura Bissé Diamond Extreme, which he literally said is "some crazy shit."
Using Q-tips, he applied the product using his "CNZ" technique, which stands for "Crucial Necessity Zones." Find something to do for two hours as you let the product sit (play Pokémon Go).
Someone get this guy a TV show.
The last step to John Mayer's beauty tutorial is removing the remaining product from your face using a q-tip.
Seal the deal by spraying some more expensive stuff on your face to preserve your hard work. John uses Natura Bissé's Diamond Mist spray.
Finally, it's time to go be a rock star.
So, let's break this all down...
John Mayer started off his random beauty tutorial on Snapchat by washing his face with Proactiv first.
Then, he followed up by applying Natura Bissé to his face, a skin care product he "has a feeling is used mainly by people in their 60s and 70s." After that, he massaged some Vitamin C and E along his "laugh lines" (because that's a thing).
Once you've accomplished those steps, use his D.A.T. and C.N.Z. techniques otherwise you're doing it wrong. Rest for two hours. Remove the remaining product from your face. Lastly, spray some more stuff on your face and Snapchat the whole thing.
Alright... How did this all start? What made John Mayer want to turn into a social media-based beauty expert?
According to CelebBuzz, John Mayer said,
People are always asking me, John, what are some of your skincare secrets? And I always say, that's an odd question to ask me, and they always say you literally just asked me to ask you that.
Well, there you go.
Go on, people -- use John Mayer's (really expensive) helpful beauty hacks to turn your body into a wonderland!
Citations: John Mayer Is the Beauty Vlogger You Didn't Know You Needed (CelebBuzz)