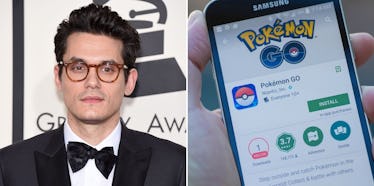 John Mayer Just Proved He's The Ultimate Pokémon Go Master
Shutterstock
Let's face it, the Pokémon Go app is one of the best things to happen to summer '16. At this point, the game has taken full control of our adult lives. But as all of us attempt to suppress our Pokémon Go addictions to ensure a productive week, it seems like John Mayer's doing the exact opposite.
The 38-year-old musician posted a glorious screenshot on Instagram of his recent Pokémon Go-related in-app purchase. It turns out John might actually be the ultimate Pokémon Go master after buying 14,500 Pokécoins worth $99.99 in real money.
The prompt on the screen reads,
Confirm your in-app purchase. Do you want to buy one 14,500 PokéCoins for $99.99?
John's caption simply stated,
YES I DO.
What'd you expect him to say? The man's gotta catch 'em all! It seems like us regular, non-celebrity human beings aren't the only ones with Pokémon Go addictions we can't kick.
So, let's do a brief recap of all of the Pokémon Go madness that's transpired over the last few days...
One guy caught a Pokémon while his wife gave birth to their third daughter. The Department 0f Homeland Security issued a wild statement urging gamers not to play while driving. A teen in Missouri stumbled upon a dead body while out catching Pokémon.
And now John Mayer has stumbled into his newfound fame as the guy who dropped some serious cash to further his Pokémon Go career. This just keeps getting better and better!
Citations: John Mayer Bought $100 Worth Of Pokécoins Because Pokémon Go Has Taken Over (BuzzFeed)