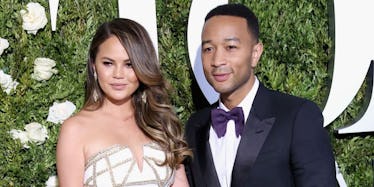 11 John Legend Song Lyrics About Chrissy Teigen That Will Make You Believe In True Love
Walter McBride/Getty Images
Hollywood love seems to never last. Literally, the most amazing celebrity couples on earth often break up and it's a travesty for us all. Please make it stop! John Legend and Chrissy Teigen, on the other hand, are not your average Hollywood couple. They're a perfect match. John Legend writes flawless love songs for her and they'll never EVER split! If they do, I'll completely give up on finding love and never listen to another love song again. The list of beautiful John Legend lyrics about Chrissy Teigen is never-ending, so let's cry into our pillows, because love is real, damn it. It's real.
The all-star couple, who met on the set of John Legend's "Stereo" music video in 2007, wed in a spectacular Italian wedding in September 2013. Although he wrote his hit song, "All of Me" about Teigen, he's been writing more than just that. He's dedicated the songs, "Good Morning" and "The Beginning" to her as well, which is probably the most romantic gesture any person could ever give another person.
Although the pair has only been married for four years, I think it's safe to say they're the real deal.
Here's a list of all the magical love song lyrics John Legend has dedicated to Chrissy Teigen. *Sigh*
1. "Cause all of me, loves all of you"
Remember this lyric from "All of Me"? Of course, you do.
2."I'm on your magical mystery ride, and I'm so dizzy, don't know what hit me"
Why is he so precious?
3. "Love your curves and all your edges — all your perfect imperfections"
He loves her curves and imperfections, you guys. He's the perfect man.
4.  "You're my end and my beginning. Even when I lose I'm winning"
Just stop, John. Stop.
5. "How many times do I have to tell you? Even when you're crying you're beautiful too"
Preach.
6. "Before you worry about your hair, baby give me one more hour"
OK, fine with me.
7. "I don't wanna lose a moment. I don't wanna miss a kiss"
Get you a John Legend and life will be perfect.
8. "Good morning, love, before we start the day, dear, I'm whispering in your ear, 'good morning'"
She starts every day off like this? Lucky, woman.
9. "Sometimes you just know it's the beginning of forever"
What a hopeless romantic.
10. "Soon as I saw you, baby, I had plans"
He had big plans.
11. "Last night was the last night. You'll ever spend alone"
The man knows what he wants.
Please don't break up. Ever.