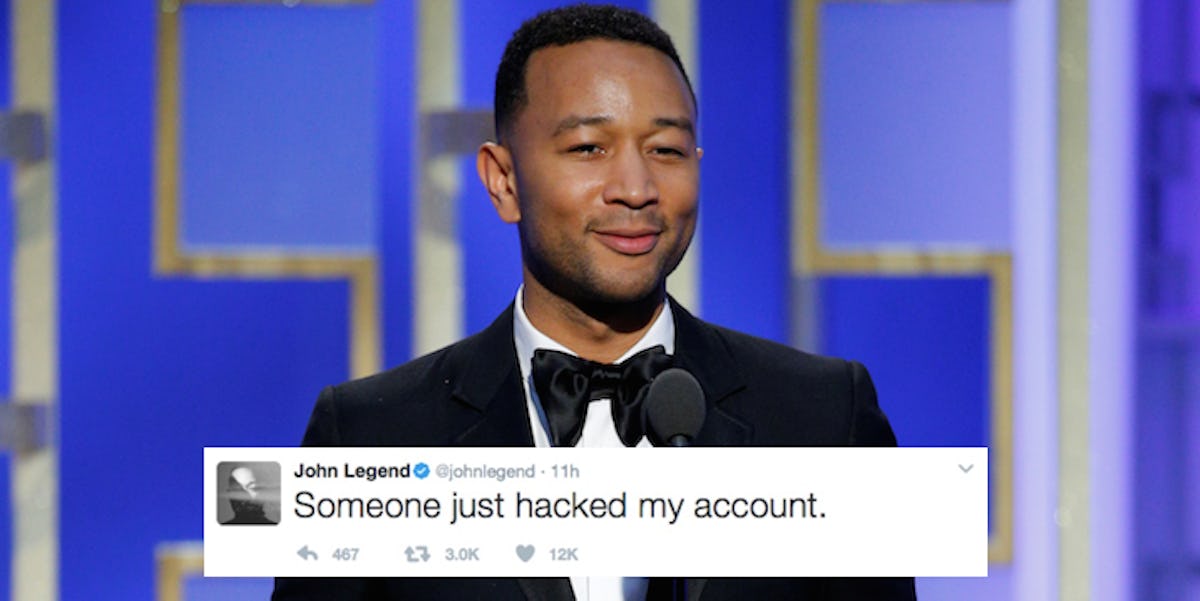 John Legend Responds To His 'Vulgar But Kinda Hilarious' Twitter Hacker
REUTERS/Twitter
If you follow John Legend on Twitter, you may have noticed some strange tweets on the Grammy winner's account last night.
Well, it turns out that none of those bizarre tweets were actually from John Legend.
John Legend's Twitter account was hacked on Friday evening.
At 7:39 pm, John Legend's account posted an offensive tweet about Donald Trump.
This was followed by a tweet that shamelessly encouraged people to follow the Twitter account, @Owen755.
Legend's account also posted a pretty nasty Hillary Clinton-inspired remix to the song "Bad and Boujee."
Not to mention, a tweet about being high AF on molly.
The vulgar messages were deleted soon after Legend regained control of his social media account.
John Legend quickly informed his followers that those "vulgar but kinda hilarious" tweets, as he puts it, were not from him, but rather, someone who hacked into his account.
After deleting the tweets and apologizing for the offensive comments on his account, Legend made light of the situation by stating, "My hacker was vulgar and kinda hilarious. I'll try and be funnier from now on so he won't feel the need to ghost write for me."
While it is widely known that Legend is not a big fan of Donald Trump, he assured his followers he "would never threaten violence to the President."
Legend professed his love for Cheetos, and said he would never compare Donald Trump to something so near and dear to his heart.
While he did admit to calling the present a "Liar-In-Chief," he said "my hacker took over to do the Angrier John version of it all."
The singer also commented on his hacker's lack of consistency when it came to talking about his endowment.
John Legend's wife, Chrissy Teigen, also seemed to get a kick out of the hacker's antics and shared a screenshot of the DM informing her of her husband's unchanged bio.
Apparently, the hacker wasn't the only one who's been targeting Legend on Twitter this week.
Legend has also been dealing with some internet trolls, including his wife, who compared him to Arthur, the animated children's character.
Luckily, Legend seems to have a pretty thick skin because he brushed off the Arthur memes just as easily as he dealt with the hate from his hacker.
But needless to say, John Legend has dealt with a lot this week. So maybe we should all lay off the poor guy for a while.
Have fun at the Oscars, John and Chrissy!
Citations: My hacker was vulgar and kinda hilarious!': John Legend sees the funny side as his Twitter is taken hostage by foul-mouthed prankster (Daily Mail)