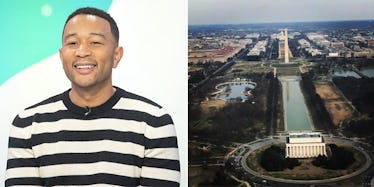 John Legend Trolls Trump With Hilarious Instagram Post About Crowd Size
We all know size doesn't matter (Right? I don't know. I took an oath of celibacy, but I would give it up if someone offered to sleep with me).
As they say, it's not the size of the boat, but the motion of the ocean.
I guess, size does matter to someone super insecure about their small hands inauguration crowd. It may make them feel like they have to lie about it.
Word of advice: You shouldn't talk yourself up saying you've got a large penis crowd. Once we see the pictures, we'll know it's not true.
John Legend recently poked fun at President Donald Trump's need to exaggerate about the crowd at his inauguration when he flew into DC by taking a shot of the National Mall.
It's an innocent enough picture, except he captioned the photo:
Landing in DC for a special @undergroundwgn screening at the @nmaahc! As you can see, millions are gathered in the National Mall, awaiting my arrival!!
Similar to Trump's big day on January 20, no one is there.
Except, whoa, what is that?! Computer, ENHANCE IMAGE.
WHO IS THAT? COMPUTER, GET ME CLOSER.
HILLARY CLINTON?!?! WHAT ARE YOU DOING HERE?!
I'm just kidding. I poorly photoshopped her in there for fun.
It's so shoddy I forgot I kept her waving hand in the first picture and erased it in the second because I did the image twice to make it more clear. There is of course an easier way, but I had a long night and I didn't think of it until just now.
For reference, here's a side-by-side of the crowd size at Trump's inauguration versus Obama's in 2009.
And no amount of "alternative facts" you listen to will change that.
Legend and his wife Chrissy Teigen were supporters of Clinton and even campaigned for her in Vegas and performed in the battleground state of Ohio to drum up support.
Citations: John Legend trolled Donald Trump like a champion (Mashable)