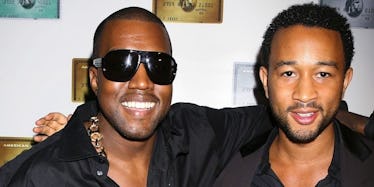 John Legend Calls Out Kanye West For 'Publicity Stunt' With Donald Trump
REX/Shutterstock
He began his career as Kanye's protégé, but John Legend is publicly distancing himself from the rapper's recent behavior.
The "Love Me Now" singer spoke to Clique, calling Kanye West's recent visit to Trump Tower to hang with the president-elect a "publicity stunt."
He added,
I don't think it's impossible to talk to [Donald Trump] about issues, but I won't be used as a publicity stunt. I think Kanye was a publicity stunt... he says he would have voted for Trump. I think Trump has been corrosive, his message has been corrosive to the country. And I think the things he's promised to do have been very concerning for a lot of people, and for Kanye to support that message is very disappointing.
Kanye met with Trump on Tuesday morning for some chattin' and huggin', following a recent "psychiatric emergency" that led to the 39-year-old's hospitalization.
Though John hasn't addressed the visit with Kanye directly, he can't comprehend what led his GOOD Music affiliate to stroll into Trump Tower this week.
He said,
Whatever's in his mind, I disagree with him.
Yeezy canceled his Saint Pablo Tour following a series of meandering rants on stage.
The cancellation also came less than two months after wife Kim Kardashian West's Paris robbery, during which the reality star was bound, gagged and robbed at gunpoint in her hotel room.
Kanye voiced his support of Trump during one of his on-stage rants, suggesting his political leanings are at odds with those of the Legend household.
John's wife, model/social media angel from heaven Chrissy Teigen, shared a tweet back in August comparing the then-presidential-hopeful to "American Psycho" leading man Patrick Bateman.
Nailed 'im, C-Money.
If only Kimmy K would hop back on Twitter and smooth this whole thing out, we could all go back to loving Ye without flashes of him hugging Trump plaguing our minds.
Guess we'll just have to rough it without her a little longer.
Citations: John Legend Calls Kanye West's Meeting With Donald Trump a 'Publicity Stunt' (Complex)