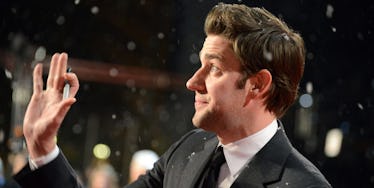 John Krasinski Says He's A 'More Sexual Person' Now That He Has 8-Pack Abs
REX/Shutterstock
John Krasinski went from lovable jokester on "The Office" to lovable jokester AND mega hottie recently, and basically no one can handle it.
Krasinski recently got ripped for his role as a CIA contractor in "13 Hours," which came out this past January, and he's loving looking like an Olympic athlete -- especially in the bedroom.
He told ELLE,
Totally selfishly, [sex] is so much better for me being jacked because you feel so much more confident and you see yourself as this much more sexual person, which is really fun.
Yeah, John, it's made us all more sexual, too. So thanks for that. I guess that's what happens when you have an eight pack!
He made this incredible transformation by rigorously working out twice a day for five days a week. And with this new development in his sex life, we can bet he's maintaining his body.
Hey, there is no shame in watching "13 Hours" just for John Krasinski's abs.
Damn, Jim Halpert.
Apparently, his wife, Emily Blunt, has no problem with her husband's new figure. Krasinski added,
The truth is, she really is that person who would like me any way, but I don't think she's going to kick the eight-pack abs out of bed.
Emily, you are a lucky woman. But you know that.
Citations: John Krasinski: Getting Jacked Helped My Sex Life (US weekly)