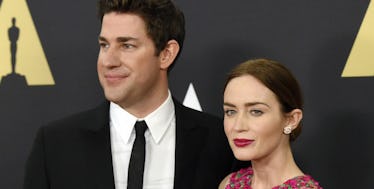 John Krasinski and Emily Blunt Just Welcomed Their Second Baby Girl
REUTERS
John Krasinski and Emily Blunt just shared some big news on social media.
The couple kicked off Fourth of July with a tweet letting their fans know that they welcomed a baby girl two weeks ago.
UM, WHAT? How did they keep this a secret for so long?
The couple already have a two-year-old daughter named Hazel, but Blunt announced in January that she was pregnant with her second child.
Now they've added another beautiful baby girl to their family and named her Violet.
You can see John Krasinski's tweet below. CONGRATS, YOU TWO! Best parents ever.
Blunt has been filming her upcoming movie "The Girl On The Train," so she's definitely kept busy during the last few months.
Now that baby Violet is here, hopefully Blunt's schedule settles down so she can enjoy time just being a mom.
I honestly forgot she was pregnant again because she's kept her personal life so on the DL.
OH and let's talk about John Krasinski as a dad for a sec. CAN YOU SAY "DILF?" Seriously though, the man is pretty good-looking. Picture that man with a stroller. DAMN.
Anyway, with parents like Emily and John, you know baby Violet is in good hands.
Citations: John Krasinski Emily Blunt Welcome Baby Number Two (Daily Mail)