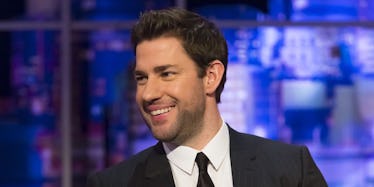 John Krasinski Talking About His Daughters Will Absolutely Melt Your Heart
REX/Shutterstock
John Krasinski and Emily Blunt's daughters are already becoming BFFs, which is probably the cutest thing I've heard all week.
The couple welcomed their second daughter Violet two months ago and, according to John, their two-year-old daughter Hazel is already enthusiastically taking on the role of big sister.
In an interview with Entertainment Tonight at the premiere of his new film, "The Hollars," the 36-year-old actor spoke about the joys of being a father.
He said,
She's amazing. She really loves the baby and I think there is this idea of, 'Oh my God, she is adorable.' I mean when a 2-and-a-half-year-old hugs a newborn baby? It's one of the cutest things you will ever see.
Yep, pretty much the only thing I can imagine would be cuter than a toddler hugging a baby is John Krasinski cooing over a toddler hugging a baby.
But seriously, that newborn girl has it made. I mean, Jim Halpert as a dad, Emily Blunt as a mom and a big sister who's already obsessed with her?
Violet is totally living the sweet life.
Ironically, John's film is about a man facing the challenges of fatherhood himself. He said that his own family definitely affected his approach to the character.
He said,
We started shooting the movie when my daughter was 4-and-half-months-old, and I've got to say that, had I shot this five months before, that it would have been a totally different movie.
"The Hollars" is in theaters August 26.
Citations: EXCLUSIVE: John Krasinski Dishes on Baby No. 2 and Wife Emily Blunt's 'Mary Poppins' Prep (Entertainment Tonight)