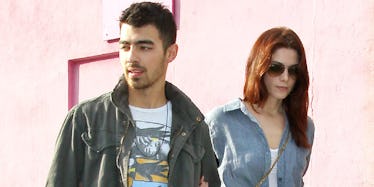 Joe Jonas Reveals He Lost Virginity To Ashley Greene: The 'Room Was Demolished'
REX/Shutterstock
If you're dying to know about Joe Jonas' penis size and sex life, then keep reading: It's all in here.
During a Reddit AMA with fans, the DNCE singer got super real about the ~intimate~ parts of his life... and body.
When asked who he lost his virginity to, Joe revealed he lost it to actress Ashley Greene.
He didn't stop there, though. He walked us through the entire experience:
I lost my virginity to this girl named Ashley. You can probably just Google it. It's pretty easy to figure out. I dated a girl named Ashley, so just Google it to figure out which Ashley that is. It's quite the great story because I didn't have any condoms, so I went to our drummer, Jack's room, who was my roommate at the time and I demolished his room looking for them. Found them underneath his underwear drawer. When he came home, he thought somebody broke into his room because his whole room was demolished because I was in dire need. Needed to happen then and now. Safety first, kids.
Thanks, Joe Jonas. You'd be a wonderful middle school health teacher.
The 27-year-old star also talked about the size of his man junk. YOU KNOW, HIS PACKAGE.
When asked if he has a bigger ding-dong than his brothers, he explained,
I like to think so. Although, it's not often that I'm in a locker room or shower with my brothers, so I couldn't really tell you. But, I'd like the Internet to believe that I'm still killin' it.
JOE!!!!!! YOU NAUGHTY BOY.
The former "Jonas Brother" went to Reddit to promote his new music video for "Body Moves."
Oh, you haven't seen it? Well, I suggest you open an Incognito window and run away from your boss ASAP because this shit is dirty AF.
Yes, you did just watch Joe Jonas get naked with model Charlotte McKinney. Moving on!
Joe, thanks for always keeping it real. I've learned so much about you... more than I ever really wanted to know.
Citations: Joe Jonas Virginity (Us Magazine)