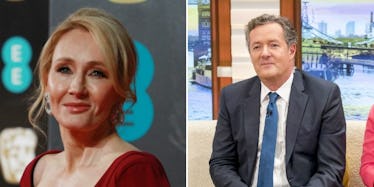 JK Rowling Wins Piers Morgan Feud After His Son Posts 'Harry Potter' Tattoo
REX/Shutterstock
Sometimes dads are well-known for their hot tempers and ability to say things that would really embarrass their child...
Not my dad, though. My dad is great.
But some of those other dads also have Twitter accounts, are TV personalities and let the world know just how feckin' dense they can be.
So, sorry, Piers Morgan's son.
While Morgan was arguing with Jim Jefferies about President Donald Trump's immigration ban on "Real Time with Bill Maher," Morgan said the ban was not a Muslim ban.
Jefferies said,
Oh, fuck off. It's a fucking Muslim ban.
JK Rowling tweeted a video of the moment and wrote,
Yes, watching Piers Morgan being told to fuck off on live TV is *exactly* as satisfying as I'd always imagined.
To which, Morgan replied,
This is why I've never read a single word of Harry Potter.
What unfolded was a Twitter battle for the ages (or at least, one of the more entertaining ones in the past few months).
Rowling threw some fantastic punches, like tweeting "Harry Potter and the Half-Blood Prince" was named book of the year at the British Book Awards over Morgan's autobiography and finishing him off with a "#StillHurts."
While Piers claims to have never read "Harry Potter" (doubtful, as pretty much everyone in the world has). his son certainly has.
Spencer Morgan, the eldest son of the British TV host, is such a big fan of Rowling's work he even has a Deathly Hallows tattoo, which he showed off on Twitter Saturday.
He also displayed a necklace, just in case we perhaps thought he got the tattoo while drunk by accident.
The symbol represents the Cloak of Invisibility, the Elder Wand and the Resurrection Stone. The 23-year-old wrote along with the picture,
Well this is awkward @piersmorgan @jk_rowling.
This, to me, translates to:
Dad, can you bloody knock it off? She is obviously one of my favorite authors whose work means so much to me I got it tattooed on my body, you absolute knob.
Citations: Piers Morgan's Son Loves Harry Potter, Shows Off Deathly Hallows Tattoo After Dad's Feud With J.K. Rowling (US Magazine)