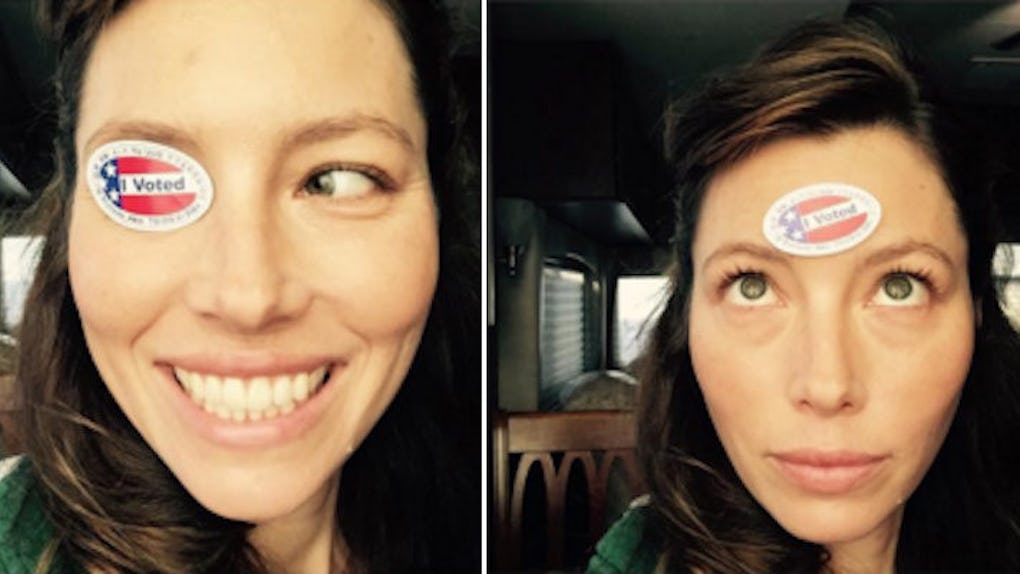 Instagram
Jessica Biel Trolls Justin Timberlake With Totally Legal Voting Selfies
If you've been waiting in suspense to see if Justin Timberlake would get jail time for his voting selfie, relax.
Sexy will not be brought back to prison this year.
However, Justin did face an equally -- if not way more -- terrible punishment for his crime: public mockery from his wife, Jessica Biel.
On Monday, the 34-year-old actress posted some extremely adorable and extremely legal voting selfies on Instagram, with a special shoutout to her husband.
Jessica wrote,
When you're so turnt up about voting that you do a photo shoot with your sticker and think it's cool but then second guess it, but you've already posted, but at least you waited to get home before snapping so you won't almost go to jail, shout out to @justintimberlake.
HOOOO BOYYY DID SHE TROLL (© DreamWork's "Trolls" in theaters November 3, featuring original songs by Justin Timberlake, Ariana Grande, Anna Kendrick and Gwen Stefani) HIM!
Justin, of course, posted his own voting selfie last week (now deleted), which turned out to be kinda, sorta less-than legal.
Fun fact: In Tennessee it is against the law to photograph or record inside any sort of polling location. The penalty for breaking this law could include a $50 fine and 30 days in jail.
However, given the fact JT was only trying to get the youths excited about democracy, the local DA office did not pursue the case.
See, these are the kind of laws you never would have known about before the age of Snapchat.
Justin took the ribbing from his wife in good spirits. He re-posted Jessica's post, with the comment,
Well played, Wifey. Well played... @jessicabiel #getoutandvote #rockthevote #votelikeyoumeanit #everyvotehashtagever Ps. No selfies in the booth.
Justin was also happy to laugh at himself on "The Tonight Show Starring Jimmy Fallon."
He said to Jimmy,
I recently voted. It was super under the radar. In and out. No one knew.
So learn from your Uncle Justin, kids, and keep your voting Snapchats close to your face so no one can see your exact location!
(Did you think I was going to tell you to turn Snapchat off? No way. How else will your ex know you voted?!)
KIDDING, don't do illegal things, but do take a word of advice from Justin and Jessica and get out and vote next Tuesday, November 8.
Citations: Jessica Biel Pokes Fun at Husband Justin Timberlake's Illegal Ballot Selfie as She Votes — See His Response! (Us Weekly)