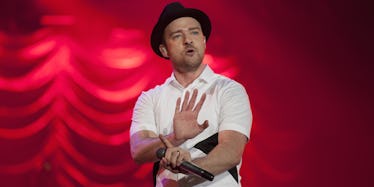 Justin Timberlake Could Go To Jail For Taking A Selfie At The Polls
Shutterstock
Before you go burning down libraries and stealing cars to get thrown in jail with Justin Timberlake, maybe cool it and consider the odds of him actually being incarcerated.
Justin visited his home town of Memphis, Tennessee on Monday to cast an early vote.
He posted a photo of himself voting on Instagram with a caption encouraging followers to take part in this rich and rewarding American tradition.
The Grammy winner wrote,
Choose to have a voice! If you don't, then we can't HEAR YOU! Get out and VOTE!
Though the message itself is a responsible and socially conscious one, Tennessee law may land Justin with a penalty of 30 days in jail and a $50 fine for posting a photo from within a sanctioned voting booth, TMZ reports.
As of last year, state law prohibits those voting from photographing or recording pictures or audio in polling places.
Though a rep from the Shelby County District Attorney's Office said Justin's case is "under review," an official from the election's board where the singer voted claimed he should not be penalized for encouraging fans to participate in democracy.
Justin loooooves democracy. In August, he and Jessica Biel hosted an A-list fundraising luncheon at their home for the Clinton campaign.
Jamie Foxx, Jennifer Aniston and Tobey Maguire were just a few of the stars who shelled out the $33,400-per-head price to attend the event.
Hillary Clinton herself attended the event and posed for a bunch of cute-ass photo booth pics with the couple, because they are a trio of casual besties.
It's whatever.
Leonardo DiCaprio was initially slated to host the fundraiser, but he was forced to relinquish his hosting duties when a deadline for his documentary on climate change,"Before the Flood," interfered.
Luckily, Hil fan and reckless voting booth rule breaker JT stepped in, and the rest is recent history.
You're a good boy, Justin. We'll hold it down while you're locked up.
Citations: D.A. Reviewing Voting Selfie PUNISHMENT INCLUDES JAIL (TMZ)