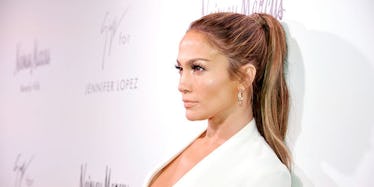 J. Lo Calls Out Haters Who Accused Her Of Photoshopping A Pic On Instagram
John Sciulli/Getty Images for Neiman Marcus
Please, guys, PLEASE, do not come for Jennifer Lopez's abs. Let's all just pick our battles, shall we? If you get in a fight with her body, trust me when I say her body will win every time.
J. Lo is calling out some real haters for accusing her of using Photoshop (the actual nerve?!) on a fire selfie the Shades of Blue star took in her bathroom.
Let's make one thing super, duper clear: If there is one thing that IS real in this world, it's Jennifer Lopez's insane body.
Didn't you guys see the movie Enough?
Weren't you there when she changed fashion forever and wore a cloth to the Grammys???
Where were you when she made the music video for her song "Booty" with Iggy Azalea?????
Anyway, here's the photo in question.
You guys can probably identify the spot people are freaking out about pretty quickly.
Just below J. Lo's elbow there's a smudge on her mirror, causing some people to think the megastar used Photoshop and accidentally erased part of her back.
Dont. Be. Stupid.
You think J. Lo would not only edit her already better-than-Photoshop body, and then just leave a glaring mistake? Players, PLEASE.
Fans wrote comments like, "I love you, you're my idol but why is a chunk of ur back missing?", and, "what happened to our back??? its like there is a chunk taken out!! ...confused.", and, "Photoshooooop."
To which J. Lo was like, "Actually, hell no."
She caught onto the ridiculous comments and posted the message,
Omg…Just a smudge on the mirror…lol…not photoshop. #lordblessthehaters #gymrat #youshouldtryit #wishtherewasphotoshopforhaters
Ugh, don't we all wish there was Photoshop for haters?
Just a reminder, this what her body really does look like.
Look at it.
I SAID LOOK AT IT.
J. Lo, not that you would ever, ever, ever need back up because I totally get that you are a strong, bad *ss woman who can defend herself, but just in case... I have your back, er, your abs... I mean your back.
What? What's happening?